Potomitan
Site de promotion des cultures et des langues créoles
Annou voyé kreyòl douvan douvan
Enfòmasyon an liy pou Elèv Ayisyen & Pwofesè
Online information for Haitian Students and Teachers
Emmanuel W. VEDRINE
14 avril 2010
(Edisyon regilye ak Francesca Palli |Updated by Francesca Palli | Mise à jour par Fancesca Palli)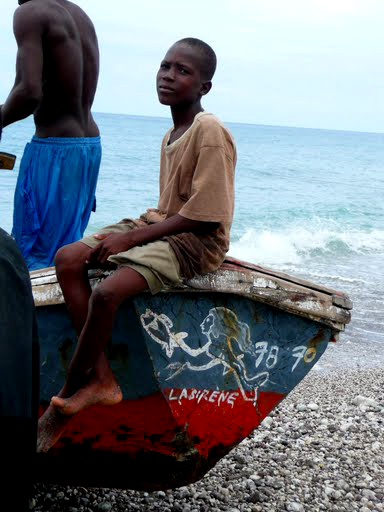 Haïti, Septembre 2009. Photo Frédéric Gircour.
A-
Anyè Elektwonik : Haiti's Super Web Directory (Annuaire).
Atik ak Esè (Articles & Essais |Aricles et Essais).
Ayiti : Pou yon edikasyon pratik lè vandredi (Emmanuel W. Védrine).
Ayisyen ak mit «Moun Nwa pa li» (Emmanuel W. Védrine).
B-
A bibliography of theses and dissertations related to the Dominican Republic. (Compiled by Emmanuel W. Védrine and Andrés Paniagua). ["Bibliografia de Tesís y Disertaciones relacionadas con la República Dominicana"… Reseach done upon the request of his excellency, Dr. Leonel Fernandez, President of the Dominican Republic, and presented at the Dominican American National Roundtable, 8th Annual Conference held at University of Massachusetts-Boston].
«A Bibliography of Theses & Dissertations related to Haiti (20th Century), including Theses & Dissertations Related to Haitian Creole | Bibliographie des thèses qui ont rapport avec Haiti (20ème siècle), inclues des thèses qui ont rapport avec le créole haitien | Bibliyografi tèz ki an rapò ak Ayiti (20èm syèk), enkli tèz ki an rapò ak kreyòl]
An annotated bibliography On Haitian Creole: A review of publications from colonial times to 2000 (Bibliographie annotée sur le créole haitien: révisions des publications de l'époque coloniale à 2000) | Yon bibliyografi anote sou kreyòl ayisyen: revizyon piblikasyon sot nan epòk kolonyal rive lan 2000). Emmanuel W. Védrine. [Research presented at the Linguistic Conference held in Cayenne, French Guiana from 9 tot 11 May 2003 and was organized by the Laboratoire des Sciences Sociales IRD Guyane, concerning the languages spoken in French Guiana. Also presented also at the 17th Annual Haitian Studies Association. University of Massachusetts-Boston. Oct. 2005). In Haitian Creole - English Bilingual Dictionary. Indiana University. 2007].
Bèbè Gòlgota: in search of citizenship with dignity (by Michel-Ange Hyppolite). English translation : Emmanuel W. Védrine.
BELLEFLEUR, Jean Hebert. (jeanhebel7@gmail.com) [Translator (Haitian Creole, Spanish, English and French - business, literary, legal and religious documents) and educator. BATJDA/HAITI ORGANIZATION (batjdaayiti7@yahoo.com). P.O.BOX 15996; HT6140; Petion-Ville, Haiti (W.I)
Bibliographie haïtienne et indices bibliographiques
Blag (jokes in Haitian Creole | blagues en créole haitien).
BOOK OF CHANGES: The preservation of Creole, a nuanced language, is a task as complex as the many-sided history of Louisiana.
BON NOUVEL [Jounal kreyòl, mansyèl ki pibliye Ayiti /Monthly Creole newspaper published in Haiti … Objective of this newspaper: promoting the Creole language, because it's the Haitian people's language. Bon Nouvèl wants to fight so that the people's language becomes an educational tool for them, the practice of their religion, their trade, and their political action along with all other activities].
Brève Esquisse historique de l'évolution des institutions universitaires en Haïti par Leslie F. Manigat.
C-
CELESTIN, Emile-Megie (Togiram) [Ekriven ki, manm Sosyete Koukou -- "… Togiram ekri ni an franse ni an kreyòl. Li ekri pwezi, woman, teyat ak esè. Lanmou Pa Gen Baryè, younn nan premye vrè woman kreyòl ki te pibliye Ayiti yo te soti anba plim Togiram. Woman sa a te soti an twa tòm…" (Michel-Ange Hyppolite). -- Kèk nan piblikasyon l yo: Le petit Marigotien (revi ebdomatè, 1938- 1939); Espiral (revi mansyèl, 1960 – 1966); Gindòl (revi mansyèl, 1971 – 1978); "Ale-vini Mirak" (istwa kout, 1946); "Feuilles D'ortie" (pwezi, 1953); "Coeur de silex" (pwezi, 1963); "Faisceau Multicolore" (pwezi, 1961); "Lettre à une poétesse" (pwezi ) 1970); Byen viv (teyat, 1967); "Bouquets de glanures" (pwezi, 1974) ; Serenite nan lanmou (teyat 1968); Lanmou pa gen baryè (roman an twa tòm ou triloji, 1976); "Lanmou Lasigwav" (istwakout, 1967); Kèzini (roman, 1985); Agasya (roman, 2003)]
CHERY, Pierre Michel ["... Se sitou nan aktivite enfòmatik moun pi fasil rankontre Pierre Michel Chéry an Ayiti, epoutan akote aktivite pwofesyonèl li, Pierre Michel Chéry se yon moun ki pa machande kolaborasyon li nan anpil aktivite k'ap fèt pou defans ak pwomosyon lang kreyòl yo ak kilti kreyòl yo. Moun plis konnen non li aletranje akoz atik l'ap pibliye an kreyòl sou divès kalite sijè sou entènèt pou òganizasyon k'ap fè pwomosyon lang kreyòl yo. Konsa Pierre Michel Chéry ap potekole nan REKA (Rezo Kreyolis Ayisyen) ansanm ak lòt militan kòz lang kreyòl la, nou jwenn li tou nan IOCP (International Organization of Creole People… ». Piblikasyon /Publications : Eritye Vilokan (2001), Bèbè Golgota (2008). Kritik sou piblikasyon P. M Chéry: Bèbè Golgota : Bouskay sitwayènte ak diyite (ak Michel-Ange Hyppolite), (English translation: Emmanuel W. Védrine).]
CHERY, Andrè Vilaire http://www.potomitan.info/vedrine/chery.php [Edikatè, Editè /Educator, Editor -- Kèk kòmantè enpòtan sou itilizasyon kreyòl an(n) Ayiti, estrè nan yon chita pale ak André Vilaire Chéry ; Some important comments on the use of Haitian Creole in Haiti, an excerpt from an interview with André Vilaire Chéry]
Chronique d'une espérance de Georges ANGLADE
CIDIHCA (Centre International de Documentation et d'Information Haïtienne) Haitian Publisher & Library.
Correspondences with teachers in Haiti (Emmanuel W. Védrine).
Commentaires en ligne sur les langues en Haïti (edition: Emmanuel W. Védrine).
Conseils pour les parents (école élémentaire) : général, math & lecture.
Conversation of four friends who were in high school (A sample of 'code-switching' among the young generation of Haitians in the United States) | Conversation entre quatre amis lycéens (un échantillon 'd'alternance codique' parmi la jeune génération haïtienne aux Etats-Unis).
Creole food: recipe for some Haitian dishes (Emmanuel W. Védrine).
Un certain mardi de janvier par Nicolas André. («Un certo martedì di gennaio», traduction italienne: Francesca Palli)
D-
DEGRAFF, Michel [Massachusetts Institute of Technology. Dept. of Linguistics and Philosophy]
DESHOMMES, Fritz["Fritz Deshommes, membre fondateur de l'Association Haïtienne des Économistes, enseigne l'économie à l'Université d'État d'Haïti. -- Il est considéré comme l'un des pionniers du journalisme économique contemporain en Haïti. On lui doit de nombreuses publications sur l'économie haïtienne"]
Devinèt(Riddles | Devinettes)
Diana Guillemin and the mauritian Creole language | Diana Guillemin ak lang kreyòl morisyen a (English translation: Emmanuel W. Védrine; (Tradikson kreyòl ayisyen (CH): Emmanuel W. Védrine)
Dictionnaire De L'évolution Du Vocabulaire Français En Haïti (dans le discours politique, économique et social du 7 fev. 1986 à nos jours: Interview avec l'auteur, André Vilaire Chéry
Dictionnaires & Lexiques (Diksyonè & Leksik | Dictionaries & Lexicon)
DPM-Kanntè by Jan Mapou. [A play depecting the plight of the Haitian Refugees where '400 refuges on a kanntè going toward Miami with no compass, no captain. At sea, during the crossing, they tell about their problems, and suffering in Haiti. Bad weather caught them on the way, which resulted in their tragic death - with the exception of a newborn whose mother just gave birth to few minute before the flimsy boat capsized'. (English translation: Emmanuel W. Védrine [Dec. 2009]. Also available in video; for information, contact : Libreri Mapou).
Décès de Pierre Vernet: la créolistique en deuil… par Raphaël Confiant.
Dis ti konsèy pou fè lekti avèk pitit ou | Ten Tips On Reading With Your Child.
Di yon vèb tire yon kont (2nd. ed., riddles). Emmanuel W. Védrine. Educa Vision. 125 p.
Diznevyèm Gradiyasyon Haitian Multi-Service Center, Diskou envite espesyal, E. W. Vedrine.
Doing research: problem and solution for Haitian students (both in Haiti and in the United States). Emmanuel W. Védrine.
DUGE, Jean Armoce [Ecrivain (créolophone, francophone); Correcteur de textes; Animateur; Auteur d'articles sur la littérature, la culture et l'histoire… courriels /e-mails: armoceduge@hotmail.com / fils_d_alice@yahoo.fr ]
E-
Edisyon e Tradiksyon| Editing and Translating | Editions et Traductions.
EDUCA VISION [Publisher of Haitian books in the United States. Mission « To make a valuable contribution to the body of Haitian-related educational materials, by publishing materials that connect culturally and linguistically to the students, teachers, administrators, service providers and community leaders". Contact: 7550 NW 47th Avenue • Coconut Creek, FL. 33073
Phone: 954-968-7433 • Fax: 954-970-0330 • e-mail: educa@aol.com]
Ejèn, Manno[Powèt, manm Sosyete Koukou | Poet who writes in Haitian Creole]
Eklèsisman ak Demistifikasyon Tontongi nan liv li a, Critique de la francophonie haïtienne (Emmanuel W. Védrine).
ÉLOGE DE L'INTERLOCUTEUR (Esthétiques sur la psychologie des poètes et écrivains: Dialogues avec Saint-John Kauss). Jeanie Bogart
English – Haitian Creole Computer Terms | Tèm Konpwoutè: Anglè – Kreyòl (Emmanuel W. Védrine).
Eske Ayiti reyèlman bezwen yon akademi kreyòl? (Emmanuel W. Védrine).
Èske yon pwogram miltileng pral solisyone vrè pwoblèm lekòl Ayiti? (Emmanuel W. Védrine).
The English language in Haiti | La langue anglaise en Haiti | Lang anglè a Ayiti. (Emmanuel W. Védrine).
F-
Fè rechèch: pwoblèm ak solisyon pou elèv ayisyen Ayiti e Ozetazini (Emmanuel W. Védrine)
FORUMS & HAITIAN MAILING LISTS: Forum Culturel (forumculturel@googlegroups.com), HAAM (haam@yahoogroups.com [Haitian Artists Assemblee of Massachusetts], Haiti Mailing List, Bob Corbett List (corbetre@webster.edu, (haiti@lists.webster.edu), Haitian Politics (Haitianpolitics@yahoogroups.com), Windows On Haiti.
FLORA & FAUNA (Flore & Faune). Emmanuel W. Védrine.
G-
GUIGNARD, Mercedes Foucard ["Deyita konte pami youn nan entèlektyèl ayisyen sosyete a onore depi nan vivan yo. Deyita gen dwa pa fè lajan ak liv li pibliye yo, men se pa fasil pou moun wè asosyasyon, enstitisyon ap envite moun k ap reflechi sou pwoblèm peyi a vin pran lapawòl…" Pierre-Michel Chéry]
H-
Haitian Creole-English Bilingual Dictionary. The Indiana University, Creole Institute.
Haitians and the myth about'blacks don't read' . (Emmanuel W. Védrine)
Haiti: for a practical education on Fridays (Emmanuel W. Védrine)
Haitian History http://www.potomitan.info/vedrine/index.php#16 (Istwa Ayiti | Histoire d'Haiti)
Haitian Creole for Healthcare, by Marc Prou, Ph.D. and Mel Schorin, MD. (pdf). [Glosè pou swen sante, Tèm medikal an 2 lang /Medical glossary]
Haitian Studies Association Annual Conference (l'Association des Etudes Haïtiennes | Asosyasyon Etid Ayisyen) ["The Haitian Studies Association provides a forum for the interchange of ideas about Haiti and its people at home and abroad. More specifically, the association is dedicated to encourage new scholarship and modes of pedagogy about Haiti, its history and culture. It also disseminates knowledge about Haiti in general and celebrates the scholarly achievements and contributions of those whose research interests focus on Haiti and its people.". Contact Information: Haitian Studies Project / University of Massachusetts Boston,100 Morrissey Blvd. McCormack Hall Rm. 2-211; Boston, MA 02125-3393. E-mail hsa@umb.edu].
Hommage à Pierre Vernet, pionnier de la franco-créolophonie haïtienne par Robert Berrouët-Oriol.
HYPPOLITE, Michel-Ange (Kaptenn Koukourouj, info@michelangehyppolite.com). [Liv an kreyòl ayisyen /Books in Haitian Creole /Livres en créole haitien. -- «… Auteur de plusieurs recueils publiés en créole; Animateur, coordonnateur et/ou participant à de nombreuses conférences sur le Créole. Co-fondateur d'un organisme ayant pour objectif principal d'assurer le développement de la langue créole. Co-animateur et correspondant littéraire pour diverses émissions de radios communautaires. Dynamique. Très enthousiaste. Maîtrise le créole, le français, l'anglais et l'espagnol" ]
The Haitian Multi-Service Center 19th graduation, Speech by guest speaker, E. W. Vedrine
Haitian Creole for Healthcare, by Marc Prou, Ph.D. and Mel Schorin, MD. (pdf)
I-
Ide pou kreye yon 'High School Ayisyen' prive nan Boston (pdf, 240 KB). VEDCREP. Boston , MA . 1994.102 p. [Idea to found a Haitian Private High School in Boston In memoriam Tony Jean-Jacques (1960-2001)]
IMAGES OF HAITI: Posters and Books [Edited by Ruth Anne Olson (olson248@gmail.com). [The editor wants children of Haitian heritage to see these posters -- to take pride in their Haitian roots and in people who are Haitian. And she's willing to work hard to contact people (especially those who work with children in schools or other programs) and to "market" Images of Haiti / Editè a vle timoun ki desandan Ayisyen wè postè sa yo – pou fyè de eritaj yo, e moun ki Ayisyen. Li ta renmen travay di pou kontakte moun (patikilyèman sa yo ki travay ak timoun nan lekòl oubyen nan lòt pwogram) e fason pou fè "maketing" imaj Ayiti.]
Indiana University Creole Institute ["The Creole Institute at Indiana University is recognized as the only center in the United States that is equipped to deal in depth with linguistic and related educational issues in Haiti. It specializes in research and training in the area of applied linguistics with a focus on French-based creoles"]
J-
JEAN-JACQUES, Tony (1960-2001) [Livres publiés: Pour mieux t'aimeur: Pou m ka pi renmen ou (poèmes en français et haïtien, 1992), Moi le juif errant (poèmes et essais, 1993). Éducateur, essayiste, judoka et poète, il a publié de nombreux articles dans la revue PRISMA de l'Université de Massachusetts-Boston]
JEAN-PIERRE, Marky. E-mail: markyjp16@yahoo.com [University of Massachusetts-Amerst. Dept. of Education. Areas: Education, Bilingual Education, Ethnolinguistics, Applied Linguitics, Francophone Studies, Foreign language teaching]
12 Janvye 2010, yon pèt kapital pou milye entelektyèl ayisyen (January 12, 2010: a great lost for the Haitian intellectual milieu)
K-
Kèk kesyon pou ouvè deba sou pwoblèm edikasyon Ayiti (Emmanuel W. Védrine).
Kèk plant kreyòl ak non yo an laten | Quelques plantes créoles et leurs noms en latin (In Haitian – English Dictionary. 5th. ed. Vol.1. 2004. Kansas University). Emmanuel W. Védrine.
Kèk refleksyon sou Ayiti apre 12 janvye 2010 (Emmanuel W. Védrine).
Keslèbrezo (Brézault, Kesler). [Editeur, Educateur, Fondateur des Editions Lagomatik à Montreal | Editor, Educator and Founder of Editions Lagomatik in Montreal. [Otè /Author of /Auteur de: *Maskilanje (1987 – 2006) 140p. (Yon dokiman ki make foto sitiyasyon sosyal la, politik la ak relijyon an nan peyi Ayiti, anvan 7 fevriye 1986 la. Yon lomeyans ki mete an aksyon 2 pèsonay ki reprezante 2 echantiyon klas sosyal rich ak pòv anndan peyi a jouk yo rive nan moman dechoukay la), *Patou 3 (1991), 60p. (Yon swasantèn tèks pwezi ki klere lanmou, fè zekla sansasyon djayi touche moun nan fondèt sans yo. Apeprè swasant lomeyans ki trase yon vèvè pou pwoteksyon lafanmi, pwoteksyon lanmou manman papa pitit). *Plofil #1 , (1988), 60 p. (Yon plakèt swasant tèks ki di swasant lomeyans sosyopolitik). *Parantèz (1988) 60 p. (Yon lòt swasant tèks. Egal, swasant lomeyans ki fè dantèl nan bebidòl reyalite sosyal ak reyalite lafanmi sanba a ak lòt ki ta ap sibi menm reyalite a), *Plofil #2 (1990) 60 p. (Swasant lomeyans sosyopolitik). *Plofil 3,2,1 (1997 – 2005) 142 p. (Yon konpilasyon Plofil ki repoze kesyon sou lavi ak lènmi lavi a. Yon krèy lomeyans angaje : nou nan dlo, pa gen kache lonbrik), *Sansmo #I (1997) 33 p.( Yon vokabilè 3 lang : kreyòl, franse, angle, pou tout apranti, tout novis ki vle dekouvri lòt tèm ak lòt sans mo nan kreyòl la), *Sansmo #2 (1998) 33 p. (Yon vokabilè 2 lang : kreyòl, franse, nan lòd alfabè kreyòl la ki ka ede nan tradiksyon osnon nan ekri lang lan pi byen), *Viv (2005) 142 p. (Yon konpilasyon lomeyans byen ranje, byen moute pou lavi ka viv san pran souf. Viv tankou moùn ki pran gou nan lavi toutbon vre a).]
Kisa n ka fè pou ede Ministè Edikasyon Nasyonal Ayiti? (Emmanuel W. Védrine).
Konvèsasyon kat ti zanmi ki te nan 'High School (Emmanuel W. Védrine).
Kreyòl Lesson for beginners: An introduction to Haitian Creole (Emmanuel W. Védrine).
Kritik Ak Rechèch Sou Pwovèb Ayisyen: revizyon e edisyon 100 pwovèb ayisyen nan 'You can learn Creole', zèv H. Ormonde McConnell ak Eugene Swain Jr (Emmanuel W. Védrine).
Korespondans ak anseyan an(n) Ayiti (Emmanuel W. Védrine).
100 Kesyon ak repons pou Ekzamen Sitwayènte Amerikèn (pdf, 55 KB). 100 Questions and answers for the U.S Citizenship' Exam (edited by Emmanuel W. Védrine).
L-
Lack of (teaching) materials in the Haitian Bilingual Program (Tony Jean-Jacques).
LAMOUR, Nekita; e-mail: NPLamour@aol.com [Haitian-American Teacher, Writer and Researcher /Pwofesè Ayisyen-Ameriken, Ekriven e Chèrchè]LAMOUR, Nekita; e-mail: NPLamour@aol.com [Haitian-American Teacher, Writer and Researcher /Pwofesè Ayisyen-Ameriken, Ekriven e Chèrchè]
Leksik kreyòl: ekzanp devlopman kèk mo ak fraz a pati 1986 (pdf, 79 KB) | Haitian Creole lexicon: example of the development of some words and phrases from 1986.
Lè Kreyòl kenbe w; When you have a need for Kreyòl (pdf, 32 KB); «Interview avec le linguiste haïtien Emmanuel W. Védrine à l'occasion de ses dix ans de recherche sur le créole». Gotson Pierre, SICRAD, oct. 2000.
LIBRERI MAPOU (Mapou Bookstore; distributor of Haitian books; Jan Mapou President & owner]
LITTÉRATURE HAITIENNE (Haitian Literature /Literati ayisyen) [«Une base de données de littérature haïtienne (poètes, écrivains et conteurs haïtiens» | A database of Haitian Literature (poets, writers and Haitian story tellers | Yon bazdone Literati Ayisyen (powèt, ekriven ak kontè)]
M-
Manje kreyòl: resèt pou kèk pla ayisyen (Emmanuel W. Védrine). Emmanuel W. Vedrine. Creole food: recipe for some Haitian dishes.
Dr. MIRVILLE, Ernst (Pyè Banbou) [Medsen, Edikatè e youn nan piyonye Mouvman Kreyòl (ane 60 yo. ["… Dr. Ernst Mirville ( Pyè Banbou) se younn nan teyorisyen Mouvman Kreyòl Ayiti a. Li fèt Pòtoprens , Ayiti, 31 jiyè 1940. Dr. Ernst Mirville ( Pyè Banbou) fè klas primè li nan lekòl Janmari Giyou, tout mounn konnen sou non Teyat. Li te fè klas segondè li Seminè. Apresa, li te rantre lekòl lamedsin Pòtoprens. Pi devan nan lavi li, li te enskri nan fakilte etnoloji, kote li te espesyalize li nan branch sosyo-antwopoloji. Nan ane 1987 nou te jwenn Dr. Ernst Mirville ( Pyè Banbou) kòm manm premye Konsèy Elektoral Pwovizwa peyi a. Nan ane 2000 li te vin prezidan Konsèy Elektoral ki te organize eleksyon ki te mennen Prezidan Aristid sou pouvwa a youn dezyèm fwa. Pyè Banbou te aktif sou sèn politik la, men se prensipalman kòm medsen epi kòm mounn ki ap fè rechèch li te viv…" (Michel-Ange Hyppolite)]
La Troupe Makandal, Inc. [Master Drummer Frisner Augustin, Artistic Director /Lois Wilcken, Ph.D., Executive Director. Contact: 621 Rutland Rd Apt 4C, Brooklyn NY 11203-1716; Tel. (718) 953-6638 / 212-529-5062 (fax) makandal@earthlink.net / http://www.youtube.com/frisneraugustin]
MAPOU, Jan (Jean-Marie Willer Denis). mapoujan@bellsouth.net [Creolophone writer, playwright, and businessman. Founder of Libreri Mapou (Miami) and president of 'Sosyete Koukouy']
MANIGAT, Max. (maxmanigat@aol.com). [Author, Researcher. PUBLICATIONS: (1) Sajès ayisyen. Ansyen pwovèb kreyòl. Enspirasyon pou lavi modèn. 2010. Educa Vision: Coconut Creek, FL. 150 p. ISBN# 13-978-1-58432-597-0. [Note: Haitian Wisdom. Old Creole Proverbs. An Inspiration for Modern Life. A collection of 1010 Haitian proverbs (1872) with annotations, an alphabetical index and a thematic index]; (2) Patamouch. Etimoloji – Literati – Repòtaj. 2007. Educa Vision: Coconut Creek, FL. 266 p. ISBN# 1-58432-456-2 [Note: Scribbling. Etymology – Literature – Press Report; Fifteen chapters in Creole presenting the many articles and essays written by the author : anthropology, poetry, proverbs, African-American immigration to Haiti, etc., from the 1950's]; (3) Proverbes créoles du dix-neuvième siècle. Transcription moderne – Traduction française – Annotations. ISBN# 13 : 978-1-58432-544-4 [Note: Haitian Creole Proverbs from the Nineteenth Century. Modern [Official] Transcription – French Translation – Annotations. -- Re-issue of the first book of Haitian Creole Proverbs (1872 & 1877) – Bilingual : Creole/French]; (4) Mots créoles du Nord'Haïti. Origines – Histoire – Souvenirs. 2006. Educa Vision: Coconut Creek, FL. 375 p. ISBN# 1-58432-399-X [Note: Creole Words from the Northern Part of Haiti. Origins – History – Memories].
MAPPING HAITIAN HISTORY [This website, on historical sites in Haiti, offers lots of photos by region of sites all over the country. In particular, the author focuses on colonial and early national sites... Her masters thesis at Brown focuses on "The Haitian Revolution and its effect on American writing in the pre-Civil War era"…. For more info, please contact Stephanie Curci; e-mail scurci@andover.edu.
MATERYÈL EDIKATIF POU BILENG AYISYEN. 1994. Soup to Nuts: Cambridge, MA. Emmanuel W. Védrine. 218 p. [Materyèl Edikatif pou Bileng Ayisyen is the author's eight book published… It's a document related to his experience as teacher in the Haitian Bilingual Program… It's a privilege for him to have published some books to serve as a block in the construction of this work. It takes time, experience, and money to publish. Many times, an author does not benefit from his works, but there must be some people who are conscious of the problem who put time aside to look for some solutions. Haitian teachers can get some solutions to the problem if they try to work together. Now, they know the problem, it's not necessary to keep on talking about it, but they should rather think of how they can solve it. Sa ki nan liv la /Content: Chapit I : Chapter I (A panorama of Haitian Indian Civilization, pp.7; A brief history of Haiti, pp.12; Yon koudèy sou istwa d Ayiti, pp.15; Bataille de Vertière's Speech, pp. 20 /Diskou Bataille de Vertière, pp.23; Im nasyonal peyi d Ayiti /La Dessalinienne, pp.27; La réalité des nouveaux refugiés haitiens, pp.29 / Reyalite nouvo refijye ayisyen ki fèk vini yo, pp.30; Pwoblèm transpòtasyon nan peyi d Ayiti, pp. 33; Mon pay: Haiti, pp.36). Chapit /Chapter II: Ann kase koub kreyòl la, pp.45; Another achievement toward the emancipation of Haitian Creole (pp.53); Yon akonplisman nan liberasyon kreyòl ayisyen (pp.57); Bilingual poems /Powèm bileng (pp.62); Chita tande sou kreyòl ayisyen ak kote l soti, yon etid fololojik (pp.70); Kèk pwovèb ayisyen ak ekivalans yo an fransè (pp.85);. Chapit /Chapter III: Bozor, le cambusier (pp.104) /Bozò, chef kanbiz (pp.114); Chen pèdi, Chat genyen (pp. 121); Compère Chien et compère Chat (pp.127) /Konpè Chen ak konpè Chat (pp.131); Jipon nwa a (pp.136); Malis et le boeuf de Bouki (pp.147) /Malice ak bèf Nonk Bouki a (pp.153). Chapit /Chapter IV: Ann pale de bwa ak fri Ayiti! (pp.160); Fransè kòm lang dominant nan lekòl Ayiti (pp.181); Lekòl an Ayiti, yon pwoblèm total capital (pp.185); Ma première interprétation de Haiti 2004 (pp.205); Konvèsasyon 4 ti zanmi ki te nan High School (pp.208); Bibliography /Bibliyografi (pp.217)]
MEDICAL GLOSSARY in Kreyòl, English, French & Spanish Hesperian Health Resources. [Glosè medikal an kreyòl, anglè, fransè, espayòl].
Mémoire d'encrier (Haitian Publisher) [e-mail: info@memoiredencrier.com [Address: 1260 Rue Bélanger, Bureau 201; Montréal, Québec, H2S 1H9. Tél. (514) 989 1491; Téléc. (514) 938 9217.
Men l anlè a l ap vini (pdf, 54 KB). | He is in the air coming. 1997. Emmanuel W. Védrine 34 p. [Short story in Creole]
Mer des hommes Mère des Iles. 2001. Jean Armoce Dugé. Eds. de l'île. 40 p. [Poetry in French].
MÉTELLUS, JEAN (Un site spécial consacré à Jean Métellus / A special site devoted to Jean Métellus – médecin, écrivain, professeur de la médecine /Sit espesyal konsakre a Jean Métellus – medsen, ekriven, pwofesè lamedsin).
METYE NÈSIZED OZETAZINI: MIT AK REYALITE DÈYÈ L. Sandra Piverger. [The Nurses Aid profession in the United State : mith and reality].
Moi, le Juif errant. 1993. Tony Jean-Jacques. 98 p. [Préface: Voici que pour la deuxième fois, si je ne compte pas quelques modestes essais, un receuil de poèmes. Ce qui m'effraie, ce n'est point tant le choix des mots ou des tournures, ni les subtilités grammaticales, qui je dois dire, sont à la portée de tout le monde mais c'est la position du poète, et celle, plus dangereuse encore, de notre chère patrie: Haïti. Par ma seule façon d'écrire, je vais me dévoiler tout entier, et si je ne suis pas sincère, c'est-à-dire sans aucune pudeur, j'aurai perdu mon temps à gaspiller du papier. Il va donc falloir me présener ouvertement au lecteur qui me lira pendant quelques heures. Ce sont ces considérations, honorables et rassurantes, qui m'ont décidé à publier ce recueil. C'est mon histoire, ou un témoignage sur mon pays, sa situation de nos jours et une époque disparue. Au temps lointain de ma jeunesse, je fus pris d'un grand amour pour mes souvenirs. Mais le Bon Dieu, qui m'a donné une belle mémoire, a placé ma voix non dans ma gorge, mais dans ma poitrine: si bien que, faute de pouvoir chanter mes sentiments, j'appris à composer et écrire des poèmes, afin d'en exprimer le chant de la délivrance de mon pays. En ces temps de détresse nationale, il devient de plus en plus évident que tout espoir de survie pour Haiti repose sur l'éducation de la jeunesse dans l'amour de la patrie, un amour prêt au sacrifice. C'est le but que s'est fixé ce nouveau recueil de poèmes et d'essais. J'ai voulu réaliser pour nos enfants un guide qui leur apprenne à prendre conscience de leur «haïtianité», à découvrir les beautés de leur pays, à comprendre la valeur du travail de nos ancêtres, à être fiers des réalisations passées et aussi la situation actuelle de notre peuple, à tenir en estime leur compatriote, l'agriculteur, à reconnaître la spécificité de la nature et la vie haïtienne, à être respectueux du patrimoine culturel haïtien. Tout ce que l'esprit de notre peuple a crée, ses chants et ses légendes, son humour ou son sérieux, la beauté, le charme, la bonté et le courage, tout ce que l'âme populaire peut receler et qui rejaillit abondamment dans les fraîches fontaines de la poésie haïtienne. Tout Cele doit devenir pour l'enfant une image palpable et un ami sachant lui rendre accessible à toute la richesse de l'entité haïtienne et lui faire découvrir une vérité à laquelle l'enfant, un jour, debra faire face. Pour en finir, je dois dire que ce receuil est l'histoire errante de ma vie et de mon peupe. --- Septembre 1992.
«Douze ans ont passé, qui ont marqué l'éloignement du poète et de son pays. Silencieux et seul, comme un Juif errant, Tony Jean-Jacques reste debout au milieu de ses souvenirs. Il a le droit de s'appeler: «Le Juif errant» parce qu'il erre sur tous les continents, le cœur à la main, de parler de son pays, parce qu'il représente partout, du destin, parce que toutes ces dernières années illustrent sa promenade nomade. Ses poèmes et essais me fascinent. On peut, certes se contenter de relever à travers les pages, les fortes empreintes qu'imprime le 'macoutisme'. On peut voir: une Haïti traquée par te temps et par la mort. En attendant, il suffit de savoir qu'il y a dans ce receuil des pages où notre pays pourra se reconnaître sans honte… L'auteur a voyagé à travers l'Europe et l'Amériqe où il a fait de lourdes expériences qui se retrouvent dans son langage. Il a publié notemment un receuil de poèmes bilingues, Pour mieux T'aimer: Pou m ka pi renmen ou (1992), et aussi de nombreux articles dans le magazine Prisma de l'Université de Massachusetts à Boston. Dans ce nouveau recueil, Moi, le Juif errant, Jean-Jacques exprime dans un langage clair la réalité et la vie de l'exilé ou de l'immigré. Essayiste, Poète, Educateur, Judoka, Jean-Jacques est en outre un philosophe de l'action désintéressée et du travail en équipe.» -- Emmanuel W. Védrine].
MORISSEAU-Leroy, Felix; in Creole[Ekriven ayisyen ki ekri an fransè e an kreyòl /Haitian writer who writes in French and Creole]
Mother Nature has risen up against us by Nicolas André (English translation: Emmanuel W. Védrine).
18 ME : FET DRAPO AYITI. Yvrose LUBÉRISSE. 56 p. 2004. Educa Vision. ISBN: 1-58432-216-0.
N-
A NEW LOOK AT NASALIZATION IN HAITIAN CREOLE (PDF) (by Albert Valdman and Iskra Iskrova - Indiana University). [Article. -- Theoretical Linguistics /Teyori lengwistik]
Nòt pou 'distribitè' ak 'mezondedisyon liv kreyòl' | Note for distributors and publishers of Creole books (Emmanuel W. Védrine).
Nòt sou koutmen Kiba ap bay Ayiti nan domèn edikasyon, tradiksyon yon atik ak tit: 'Pwennvi: Kiba kontinye pwogram kiltirèl e edikasyonèl li' [Note on Cuba's help to Haiti in the area of education, translation of an article].
NOEL, Alfred G. [Dept. Of Mathematics, University of Massachusetts-Boston & The Haitian Scientific Society; http://www.math.umb.edu/~anoel/publications/; hss@cs.umb.edu; Research in Mathematics].
O-
Online comments on languages in Haiti (edited by Emmanuel W. Védrine). [Kòmantè an liy sou lang an Ayiti | Commentaires en ligne sur les langues en Haiti]
On the native language of Haiti and Francophonie (Emmanuel W. Védrine). [Sou lang natifnatal la Ayiti ak frankofoni | Sur la langue maternelle d'Haïti et la francophonie].
Gender, and Education in the Age of "New" Racism and Patriarchy. 2010. [Assistant Professor in the Curriculum and Instruction department at New Mexico State University. He has received several fellowships including the ALAMA, and New Perspectives Fellowship. His research interests include post-colonial studies; critical race theory; gender studies, particularly masculinity and maleness; multiracialism; critical multicultural education; TESOL (Teaching English to Speakers of Other Languages); bilingual education; Caribbean Studies and cultural studies. His book Education under occupation: the heavy price of living in a neo-colonized and globalized world, was published in 2007; " Beyond Political Rhetoric and Discourse: What type of educational, socio-economic, and political change should educators expect of President Barack Obama?" in Journal for Critical Education Policy Studies, Vol.7. no.1 (June 2009)].
P-
A panorama of Haitian Indian Civilization. Prisma, Spring 1990. University of Massachusetts-Boston. (Emmanuel W. Védrine). [Panorama Sivilizasyon Endyen Ayisyen | Panorama de la civilisation des Aborigènes d'Haiti]
LA POÉSIE HAÏTIENNE D'EXPRESSION CRÉOLE (en pdf, 72 KB) par Saint-John Kauss. [On Haitian Poetry in Creole /Sou pwezi ayisyen an kreyòl]
LA PROBLÉMATIQUE DU CRÉOLE À L'ÉCOLE une manifestation d'insécurité au niveau identitaire (par Caroline Hudicourt). [Pwoblematik lang kreyòl la nan lekòl – yon manifestasyon ensekirite o nivo idantitè].
Le Plaidoyer ou le symbolisme du système politique, administratif et judiciaire des animaux. 1999. Saint-Ange Marcellus. 200 p. [This book also appears in English, ---. «Ce livre, Le Plaidoyer, vous est présenté. Il est la projection de l'image d'une réalité quotidienne trop longtemps cachée par la volonté controversée de perpétuer le statu quo dans tous les domaines de la vie nationale et internationale des peuples. L'on y retrouvera, bien sûr, des faits connus mais si disparates que l'auteur s'engage à les rassembler et à les harmoniser pour en faire une œuvres unitaire et globale… Ce n'est pas une fable, ni une histoire d'amour contrarié. C'est plûtôt une situation socio-politique, économico-culturelle d'un monde en désarroi, cherchant à rétablir son équilibre sous le pseudonyme de justice sociale. Le Plaidoer est une étude critique de la sociologie du pouvoir judiciaire du Tiers-Monde. Une place de choix y est réservée à tout système de Gouvernement. Le lecteur avisé saura y reconnaItra la sienne. Quand à sa véracité, son opportunité et sa valeur historique, aux lecteurs d'en juger. Conscient d'avoir reçu l'enseignement des meilleurs maîtres que sont le «Temps» et la «Rue», sous l'égide de la patience dans les recherches assidues, l'auteur n'hésite pas à lever sa voix contre les préjugés, les injustices et le favoritisme auxquels s'ajoute le népotisme dans le partage des richesses naturelles et industrielles entre les animaux…» (Avant-propos, pp. 1)].
PAR LE FRANÇAIS, PARLE CRÉOLE (Cour d'apprentissage du créole). 1987 Arthur Antoine. Imp. Transcontinental Inc. 331 p. ISBN # 2-9805509-2-2 [«…Livre destiné au public francophone: touristes, étudiants, professeurs, missionnaires, coopérants, intervenants médicaux et sociaux, professionnels, commercants, journalistes, amateurs de linguistiques… Les phrases créoles sont tirées du parler quotidien pour que l'apprentissage soit pratique et utilitaire… Les traductions françaises restent simples, les tournures littéraires ont été évités pour ne pa s'écarter des thèmes créoles»].
Pasaj Yves ESTENVIL Boston nan kad yon misyon edikatif e kiltirèl (Emmanuel W. Védrine). [Visite deYves Estenvil à Boston dans le cadre d'une mission educative et culturelle | Yves Estenvil's visit in Boston for an educative and cultural mission]
PATAMOUCH : dènye liv Max Manigat. [Commentaires de /Comments by Lionel Hogu].
Path to the most ever published Bibliography Research on Haitian Creole (Emmanuel W. Védrine) [Etap pou te pibliye pi gwo Rechèch Bibliyografi sou Kreyòl Ayisyen]
PAWÒL KREYÒL (Revi Literè Sosyete Koukouy Literary Review. Vol. I, #1, Oct. 2009). 374 p. [Contributors: Angelucci Manigat, Camille Rosemberg, Emile Jules (Pyè Legba), Emmanuel Eugène (Manno Ejèn), Ernst Julméus, Ernst Mirville (Pyè Banbou), Ernst Registre, Gary S. Daniel (Nèg Gonbolyen), Henri Robert Durandisse, Jacques J. Garçon, Jan Mapou (Jean-Maried Willer Denis), Jean Dorcély Dédé, Jean R. Désiré, Jean Roert Placide, Josaphat R. Large, Frantz "Kiki" Wainwright (Palmannò), Max Manigat, Michel-Ange Hyppolite (Kaptenn Koukouwouj), Pascale Millien-Faustin (Choublak Kreyòl, Rose Bléus. [Haitian Literature in Creole, Littérature Haïtienne en créole, Literati Ayisyen an kreyòl]
PETIT LEXIQUE DU CRÉOLE HAÏTIEN. (linguistique historique | Historical linguistics | lengwistik istorik). Orèsjozèf Publications. 1995. Emmanuel W. Védrine. 87 p. (1st. ed.).
Peyi m rele Ayiti | My country is Haiti | Mon pays c'est Haïti. Emmanuel W. Védrine.
PIERRE (Sonia): Entrevue par Robert Benodin (20 avril 2007).
PLURIEL (Magazine). Edité par les Agences Pluriel. Tél. 511-6312; 256-7207. PDG de la publication: Marie-Hélène RAMEAU, Chantal T. FLORES, Cynthia T. KHAZZOUH. Editeur en chef: Marie-Hélène Rameau (Rameau@hainet.net). Conseillères de la section Jeunesse: Tatiana Cozart & Ashley Tavernier; Reportage & Relations Publiques: Marie-Hélène Rameau, Monique D. Kanzki ( Miami ), Rolande Coradin, Cynthia T. Khazzouh; Publicités: Marie-Hélène Rameau, Cynthia Khazzouh; ONT COLLABORE: Paulette Poujol Oriol, Odette Roy Fombrun, Anne-Marie Issa, Régine M. Jolicoeur, Georges Corvington, Nathalie Trouillot, Caëlle Jean-Baptiste, Lemane Vaillant, Frantz Delva MD, Gérard Large, John Danies, Patrick Tavernier, Xavier Tavernier.
PROU, Marc [Africana Dept., University of Massachusetts-Boston; Areas: Caribbean Studies, Caribbean Culture /Language, Haitian Creole, Bilingual Education, Curriculum Development. Head of the Haitian Creole Summer Program, UMass-Boston]
POETRY IN HAITIAN CREOLE: A guide for beginners and translators. 1994. Emmanuel W. Védrine. Soup to Nuts: Cambridge, MA. 75 p. [Poems include: "Afrika! Afrika!" (p.5), "Ala traka pou demokrasi" (p.22), "Ayisyen ak Chinwa" (p.23), "Ayisyen yon metis" (p.24), "Ayiti nan fen ventyèm syèk" (p.25), "Ayiti pou Ayisyen" (p.26), "Babay lekòl mwen an" (p.11), "Bò Oseyan an" (p.12), "Dezyèm Endepandans" (p.27), "Divalye ak Ayiti" (p.28), "Esprime ou! " (p.29), "Fènwa ak klète an 1991" (p.30-31), "Fòk sa fini" (p.32), "Jimnastik politik" (p.33-34), "Kat Lèt" (p.13), "Kè m ak ou menm" (p.14), "Kikote Ayiti ye" (p.35), "Kilè w ap retounen" (p.15), "Kisa ou ye" (p.36), "Kote m te fèt" (p.37), "Lang"( p.6), "Lè Ayiti te Ayiti" (p.38), "Manman, pa ban m tete ankò" (p.40), "Montre m pito (p.39), "Mwen sonje ou" (p.21), "Nan Forè Nwa" (p.7), "Nan Pak la" (p.16), "Pèp Ayisyen an 1990" (p.41-42), "Peyizan ayisyen" (p.43), "Pitit ak manman adoktif li" (p.44), "Pon Nèf ak Pon Women" (p.8), "Poukisa se Ayisyen" (p.45), "Premye ak dènye" (p.46), "Refleksyon sou Onz Septanm" (p.47), "Reken yo kontinye ap fete" (p.48), "Revè 1986" (p.49), "Sa ou dwe konnen" (p.17), "Sezon wouj (p.50), "Si m te, m ta…" (p.51-52), "Sou Sou Sou" (p.18), "Souvni" (p.19), "Tande kri peyizan yo! " (p.53), "Te kwè nou tout se Ayisyen" (p.54), "Trantan anprizone" (p.55), "Triyang souwè" (p.20), "Vakans rive" (p.10), "Vwayajè" (p.9), "Yon temwen" (p.57), "Zwazo ak prentan" (p.56). GLOSSARY, Haitian Creole – English glossary (p. 58-75)].
POMPILUS, Pradel (1914 – 2000) [éducateur, linguiste | edikatè, lengwis | educator, linguist]
Pou restriktire lekòl Ayiti (Emmanuel W. Védrine). [Re-structuring schools in Haiti].
Premye Etap Avèk Yon Òdinatè [Premye Etap Avèk Yon Òdinatè (First Step With Computers) / Publisher: Eastern Digital Resources. 2007. [In today's competitive business environment, knowledge of computers can be one of your greatest assets)… "Premye Etap Avèk Yon Òdinatè is the result of teamwork, the voluntary contributions of Haitian and American educators, in development for 8 years. Final editing was done by Emmanuel Védrine, Emily Miksic, and Jean Aupont following field testing in Jeremie, Haiti as part of the teacher training course provided by Pwof Ansanm"].

Pwezi an kreyòl (poésie en créole haitien | poetry in Haitian Creole).

PWOF ANSANM [Teachers' organization. "Supporting local initiatives to improve the quality of education in Haiti" /òganizasyon anseyan – Bi yo se sipòte inisyativ lokal pou amelyore kalite edikasyon an Ayiti].

PYESÈT (Sketch | Piécette). Emmanuel W. Védrine.
PROPHETE, Joseph (e-mail: danmbala@yahoo.com). [Educator /Author: Dictionnaire bilingue créole-français/français-créole /Diksyonè bileng: kreyòl – fransè – kreyòl].
16 Pwen pou ede Ayiti bouje | 16 points to help Haiti moving forward | 16 points pour faire bouger Haïti. Emmanuel W. Védrine.
Q-
15 QUESTIONS ABOUT HAITIAN CREOLE by Yves DEJEAN [1. Creole: What is it? 2. Is Creole a language, a dialect or a patois? 3. Where does Creole come from? 4. Where is Creole spoken? 5. Isn't Haiti isolated by Creole? 6. Isn't Creole responsible for Haiti 's underdevelopment? 7. Does Creole have a scientific and technical vocabulary? 8. Can one conduct or carry scientific discussions in Creole? 9. Are there Creole dictionaries? 10. Does Creole have a grammar? 11. Is Creole rule-governed? 12. Does Creole have an orthography (that is, a spelling system)? 13. Can people use Creole in Haiti to conduct serious business? 14. Will Creole-speaking children be able to learn French or English? 15. Why is it that people advocating the use of Creole in Haitian schools are sometimes individuals already fluent in French?- Haitian Creole / Langue].
R-
Le reboisement d'Haïti, un défi politique et environnemental | Kisa k dwe fèt reyèlman pou rebwaze Ayiti? | What's really needed to be done to reforest Haiti? Emmanuel W. Védrine.
Rate materyèl (pedagojik) nan Pwogram Bileng Ayisyen an | Lack of (teaching) materials in the Haitian Bilingual Program (Tony Jean-Jacques).
RECHERCHE SUR LES 'PAROLIS' ET LES PROVERBES HAITIENS / RECHÈCH SOU 'PAWOLI' AK PWOVÈB AYISYEN. Emmanuel W. Védrine. [Rechèch sou pawoli ak pwovèb ayisyen | Research on 'pawoli' and Haitian proverbs]
RECOMMENDATIONS OF THE 1999 CREOLE SYMPOSIUM. [Rekòmandasyon senpozyòm kreyòl (ou 'kongrè espesyalis kreyòl) 1999 lan]
Refleksyon Lionel Hogu sou liv Mots Créoles du Nord d'Haiti - Origines-Histoire-Souvenirs [ Reflexions de Lionel Hogu sur le livre de Max Manigat, Mots Créoles d'Haïti]
REFLEKSYON nan okazyon Jounen Entènasyonal Lang Kreyòl 2005. (Biwo Kiltirèl Sosyete Koukouy). [Reflections on the International Creole Day 2005]
REKA (Rezo Entènèt Kreyolis Ayisyen /Network of Haitians writers who writes in Creole]
Rekonstriksyon Ayiti : yon defi ak yon konbit manch long (Emmanuel W. Védrine)
REMÈD LAKAY [Home made medicine]
RENÉ, JEAN ERICH (essayist | eseyis) [Publications: A la recherche de Spartacus; Aimer ne se conjugue pas seul; Arrêtons l'invasion des fourmis du nord; Assassinat bis de Dessaline; Un bouquet de roses rouges à l'occasion de la St Valentin; Combien faut-il de fleurs pour un printemps!; Désaveu de Latortue; Des chiffres et des lettres! ; Du pétrole en Haïti! Oui!; Education facteur No 1. du développement; Entre ciel et terre; Gargotte politique haïtienne! ; Haïti, quelles élites!; Jacques Bernard s'explique; Je vous salue mamans; Kijan yon plant fèt?; Konjigezon vèb «pa genyen» ; L'agonie de l'Etat-Nation; La crise sociétale haïtienne; La démocratie est bourgeoise; La facture occidentale; La remontée des Mondongues; Le développement d'Haïti est possible!; Le drame est cornélien!; L'élégance du Chef; Le masculin ne l'emporte plus sur le féminin; La production de l'échalotte à Haïti.; Les racines du mal; Mr le Président du Sénat - Lettre de Jean Erich René; Maman tu n'as pas d'égale; Ma réponse au Sénateur Dodd; Monsieur l'Ambassadeur; Pas d'éthique sans étiquette; Pas de gagnants; Pourquoi tant de candidats?; Propositions indécentes !; Que faire? Selon Bazin; Quelque ou quel que?; Radiographie d'une nation; Rasin yon plant; RDNP! Encore des mots; Sauf-conduit pour un PM!; Soyez galants les gars!; Une génération perdue!; Un Etat à reconstruire; Un soi-disant leader; Une valse à trois temps; Vodou et Progrès.
RESTAVÈK: yon ti esklav ann Ayiti tounen yon Ameriken ki pwofesè lekòl. 2004. Jean-Robert Cadet. Educa Vision. 219 p. [«Liv sa a premye soti nan lang anglè ak tit Restavec. Iv Dejan (Yves Dejean) vin ak vèsyon kreyòl la. Jeaan-Robert Cadet rakonte nan liv otobiyografi sa a tray li kòm ansyen restavèk depi «A» jiska «Z» (soti Ayiti rive Etazini). Dapre lwa Etazini, tout timoun dwe andedan lekòl (jiska yon sèten laj); konsa, ak moun Jean-Robert te rete nan Nouyòk la, yo te oblije voye l lekòl pou evite prizon. Li debouye l kou mèt Jan Jak nan Nouyòk jiskaske li rive libere tèt li. Apre msye fin diplôme nan High School (lekòl segondè), li antre nan Lame Ameriken (pou l te jwenn kèk avantay pi devan). -- Istwa sa a ta twò long pou n ta esplike tout pakou msye nan kèk paragraf, men n ap ankouraje tout Ayisyen, tout pwofesè lekòl, tout elèv pou ta gen kokenn liv sa a nan men yo pou konprann tray timoun «retavèk» Ayiti ap pase, e tout sòt abi y ap fè yo. Se yon fòm «esklavay» ki kontinye nan venteyinyèm syèk Ayiti jouk jounen jodi. Men kisa leta di nan sa? Èske gen lwa Ayiti ki pwoteje timoun? Èske tout timoun pa gen ale lekòl?... Se jis kèk kesyon ou menm tou ka koze lè ou fin li liv sa a. -- Mezanmi, ann leve vwa nou, nou tout Ayisyen, pou n di: non! Se twòp atò! Tout timoun Ayiti dwe gen menm dwa: yo dwe ale lekòl gratis ti cheri; yo dwe jwenn bonjan swen; yo dwe jwenn manje pou manje; yo pa dwe bat timoun (ni lakay, ni lekòl); okenn timoun pa dwe rete ak moun; moun pa dwe fè timoun abi; pesonn moun pa dwe vyole oken lwa ki ta la pou pwoteksyon timoun; pa pa dwe gen timoun restavèk oken kote Ayiti. Timoun restavèk se esklav. Desalin te libere tout esklavay Ayiti. -- Lè w ap li dewoulman istwa a, w ap panse se yon bonjan woman byenke otè a chanje non moun yo nan liv la (pou pwoteje idantite yo), men se yon vrè istwa : se istwa Jean-Robert Cadet viv li menm. Misye rive libere tèt men li pa rete la apre liberasyon an. Lefèt ke l rive ekri istwa sa a, ki deja fè anpil eko nan lemonn lè moun li vèsyon anglè a pou premye fwa, Jean-Robert mete sou pye tou yon fondasyon pou konbat maladi 'restavèk' la lakay. -- Yon gwo bravo pou kouray konpatriyòt konsekan sa a, ki fè yon kokenn travay apre l rive libere tèt li nan peyi etranje. Li travay; l al lekòl; li rive diplome nan inivèsite ameriken epi l ap eseye ede (depi kèk tan) ti restavèk ki esklav toujou Ayiti». Emmanuel W. Védrine]
ROUMAIN Jacques, Activités commémoratives en Haïti du centenaire de naissance de l'écrivain Jacques Roumain. [Aktivite pou komemore 100 ane nesans ekriven Jacques Roumain]
ROUMAIN Jacques, Hommage à Jacques Roumain.
S-
SAJÈS AYISYEN : Dènye Liv Maks Maniga a (Lionel Hogu).
Séisme à Haiti page special | Information page on the quake in Haiti | Paj enfòmasyon sou tranblemanntè Ayiti a)
Review of Senou's article, 'A Call for a Coalition and a Unity gove'. Emmanuel W. Védrine
SÉVERIN, Francois. 2007. Ti zwazo kote w prale. Société Audubon: Haiti. 143 p. [Severin published Plant ak pyebwa tè d Ayiti (2000, 2001, 2002). – Knowledge on 80 birds in Haiti; each bird in color, their scientific names (pp.25-26), birds belonging to the same family (pp.118-119); birds' name in some of the spoken languages of the Americas and the Caribbean (pp.120-131); a list of species (of the native birds of the island of Kiskeya (Haiti), pp.132.; some regulations about protecting the birds of Haiti (pp.136). [Sur l'auteur -- Haïti: François Séverin décoré de la médaille du Mérite agricole par la France -- "L'Ambassadeur français en Haïti, Christian Conan, a remis ce mardi la médaille du Mérite agricole à l'ex-ministre de l'Agriculture, l'agronome François Séverin, lors d'une cérémonie empreinte d'émotion au Manoir des lauriers. -- Christian Conan a précisé que cette distinction ne revenait pas à l'agronome, mais à l'homme pour son travail colossal réalisé dans l'agriculture du pays. Il a mis un accent particulier sur l'apport de M. Séverin dans la littérature agricole haitienne. -- En effet, l'agronome François Séverin a publié pas moins de quatre ouvrages en créole sur l'agriculture haïtienne dont le plus connu est «Plant ak pyebwa tè Dayiti», dans lequel il met en valeur les fruits produits dans le pays et les différentes façons de les consommer. -- La remise de la décoration s'est déroulée à la résidence privée de l'ambassadeur Conan, Le Manoir des Lauries. Elle a été rehaussée par la présence du président René Préval, lui-même agronome. Ont aussi assisté à cette cérémonie d'autres agronomes comme l'ancien Premier ministre Jacques Edouard Alexis et Pierre Ericq Pierre, désigné deux fois premier ministre. -- Victime d'une crise qui l'a laissé paralysé, François Séverin n'a pas pu prendre la parole. C'est son frère Arnoux qui a lu son discours à sa place pour témoigner sa gratitude à l'égard du gouvernement français ainsi qu'au président de la République René Préval qui a fait de lui son éternel ministre de l'Agriculture. -- Diplômé à la Faculté d'Agronomie en 1971, François Séverin a été ministre à 5 reprises entre 1991 et 2008. Il a occupé également la fonction de chef de cabinet des présidents Jean Bertrand Aristide et René Préval. -- La médaille de «Mérite agricole» créée en 1883 suite à une proposition du ministre de l'agriculture français de l'époque, récompense le travail d'un citoyen qui a servi son pays dans le domaine de l'agriculture pendant plus de quinze ans. Parmi les personnalités qui ont déjà été décoré de l'ordre du mérite agricole figure l'illustre Louis Pasteur." -- HPN (17 mars 2009)].
Sezon sechrès Ayiti (en pdf, 285 KB). Emmanuel W. Védrine. [Roman / Novel. Traduit en anglais par l'auteur | English translation by the author. (Season of drought in Haiti)].
Some Reflections for a New Haiti after January 12, 2010 (Emmanuel W. Védrine)
SOSYETE KOUKOUY [Sosyete Koukouy Central Bureau: 5919-21 NE 2nd Ave. Miami, Fl 33137; Tel: 305-757-9922; Fax: 305-359-3246; e-mail : info@sosyetekoukouy.org]
SOSYETE KOUKOUY KANADA: Kòmante Repòtaj Sou Konferans Lionel Trouillot-a. Michel-Ange Hyppolite (Kaptenn Koukourouj).
Standardizing Haitian Creole? A Roundtable Discussion. [Panel discussion: Albert Valdman, Emmanuel W. Védrine, Josianne Hudicourt-Barnes, Marc Prou. HAS's 18th Annual Conference, University of Virginia].
SUZANNE COMHAIRE-SYLVAIN (Bibliography | Bibliyografi| Bibliographie)
T-
THESIS & DISSERTATIONS Related to Haiti (2001 – 2010).
TANBOU [Revi ayisyen an twa lang sou keksyon politik e literè | Haitian trilingual journal of political and literary studies | Revue trilingue haïtienne d'études politiques et littéraires / PO Box 391206, Cambridge, MA 02139-1206 USA • Tél. (617) 868-1094 ; E-mail: Editors@tanbou.com]
Ti gout pa ti gout ak JAN MAPOU [Ribrik kreyòl Jan Mapou prezante chak semèn nan jounal Haiti en Marche pou pwomote Literati Ayisyen nan lang kreyòl].
Ti istwa kreyòl: Short stories in Haitian Creole. Soup To Nuts. Cambridge, MA. 1994. [Réimpression chez les Éds. EDUCA VISION]. (Cited in Haitian – English Dictionary. 5th. ed. Vol.1. 2004. Kansas University).
THESIS & DISSERTATIONS Related to Haiti (2001 – 2010).
TOUP POU YO, Tome II. Manno Sanon. [(English translation of Preface and Excerpt: Emmanuel W. Védrine)].
TOUSSAINT LOUVERTURE: L'HOMMAGE.
TOUSSAINT L'OUVERTURE: A BIOGRAPHY AND AUTOBIOGRAPHY: ELECTRONIC EDITION (Beard, J. R. (John Relly), 1800-1876) ["Documenting the American South", University of North Carolina at Chapel Hill Libraries - Source Description: (title page) Toussaint L'Ouverture: A Biography and Autobiography (spine) Toussaint L'Ouverture of Hayti. Rev. John R. Feard, D.D. 372 p., 2 ill.Boston: James Redpath, Publisher; 221 Washington Street.1863. Call number E7272 (Perkins Library, Duke University). - History]
TOUSSAINT L'OUVERTURE: THE HAITIAN SLAVE REVOLT OF 1791 [AUDIO CD of a lecture by Paul Foot (the renowned British campaigning journalist). This lecture was delivered in1991 to mark the 200th anniversary of the opening the Haitian Slave revolt. Based on CLR James' The Black Jacobins, Paul Foot vividly describes the conditions of the slaves and what led to the revolt, how Toussaint rose as leader, the dynamic of the revolution and the different phases it passed through, how it succeeded and how it influenced the French Revolution. Producer: Oakleaf Recordings, 2004. ISBN: 0954684702. Contact: mailorder@bookmarks.uk.com ]
TOUSSAINT LOUVERTURE ET LA JEUNESSE HAÏTIENNE D'AUJOURD'HUI. Leslie F. Manigat.
Tribò Babò. 1995. Jean Armoce DUGÉ. Orèsjozèf Publications. [Poetry in Haitian Creole | Recueil de poésie en créole. -- «Nan Tribò Babò, Jean Armoce Dugé fè yon ranmasay nan plizyè kouch sosyal sosyete ayisyèn lan. Nan anpil nan powèm yo, nou kapab wè pwen otè a voye sou legliz, laboujwazi, lachanm. Li montre tou nayivte peyizan an. Tribò Babò se yon voye monte tout kote, pèsonn pa ekzante. Otè a dekri an patikilye vyolans ke l wè nan Pòtoprens, sa ke l viv e ki sèvi an menm tan kòm yon echantiyon vyolans nan peyi a. Li montre tou silans pèp la, yon silans ki pa pou tout tan. Yon lòt pa, powèt la dekri frechè kanpay kote l te leve. Ak anpil sansiblite, li fè n reviv reyalite timoun nou te ye, jenn moun, granmoun toupatou nan peyi Ayiti. Pwezi Dugé ofri nou nan liv sa a se yon melanj mizik, kadans ak revandikasyon». -- Emmanuel W. Védrine.
TWA DEGOUT. 1984. Saint-John Kauss. Poèmes créoles. Éditions Choucoune, Port-au-Prince, Haïti. (épuisé).
U-
THE USES OF HAITI : A DISCUSSION WITH PAUL FARMER & NOAM CHOMSKY [" What's happening in Haiti? Why does the US government have sanctions in place against the poorest nation in the Western Hemisphere ? - Dr. Paul Farmer (Harvard Medical School) is a member of Partners in Health, the international relief organization. He has spent more than a decade working in rural Haiti to bring medical attention and care to those who would otherwise receive nothing. Noam Chomsky (MIT) is a scholar whose analyses of politics and mass media have illuminated the works of countless others. He has for many years spoken out against the uses and abuses to which Haitians are subjected by the United States government and by their own."
V-
VAKSEN EPATIT B: SA W BEZWEN KONNEN (fòma pdf) [ Health Advisory on Hepatitis B Vaccine – Kreyòl version, 2 pages. -- Poukisa pou pran vaksen an?; Kòman epatit B epapiye; Ki moun ki sipoze pran vaksen epatit B e kilè?; Gen kèk moun ki pa dwe pran vaksen epatit B oubyen yo ta; K iris ki genyen nan vaksen epatit B ?; Sa k pase si m fè yon alèji ki pa grav oubyen yon gwo alèji grav aprè m fin pran vaksen an?; Pwogram nasyonal pou konpanse moun vaksen an bay gwo pwoblèm; Kòman pou m fè pou m aprann plis de sa? - Health-related document / Dokiman sou sante].
VAKSEN KONT DIFTERI, TETANÒS AK KOKLICH: SA W DWE KONNEN (fòma pdf) [ Health Advisory on Diptheria, Tetanus, and Pertussis Vaccine. Kreyòl version, 2 pages. - Health-related document / Dokiman sou sante].
VAKSEN KONT HAEMOPHILUS INFLUENZAE TIP B : MEN KISA W TA BEZWEN KONNEN (fòma pdf) [Health Advisory on Haemophilus Influenzae Type B Vaccine. Kreyòl version, 2 pages. - Health-related document / Dokiman sou sante].
VAKSEN KONT NEMONI AN: KISA W DWE KONNEN (fòma pdf) [ Health Advisory on Pneumococcal Conjugate Vaccine . Kreyòl version, 2 pages. - Health-related document / Dokiman sou sante]
VAKSEN SARANPYON (VARISÈL): MEN KISA W TA BEZWEN KONNEN [ Health Advisory on Chicken Pox Vaccine . Kreyòl version, 2 pages. - Health-related document / Dokiman sou sante].
VALDMAN, Albert (e-mail: valdman@indiana.edu). [Linguistic Research (French, Creole), Creole Studies, French Studies | Rechèch Lengwistik (fransè, kreyòl), Etid Kreyòl, Etid Fransè].
Vanjans Konpè Chat (édition créole / Haitian Creole edition: Emmanuel W. Védrine, Oct. 2005). [Folk tale – Comrade Cat's vengeance. /Conte d'Haiti].
Vedrine committed to bridging language gap. By Martin Louis, Boston Haitian Reporter,Vol.6, Issue #9, Sept. 2007.
VEDRINE, Emmanuel W. [Researcher, Translator, Writer. Area: Linguistics (French, Haitian Creole, Hispanic), and writings focusing on Haiti / Cherchè, Tradiktè, Ekriven. Domèn: Lengwistik (fransè, kreyòl ayisyen, espayòl /ispanik). Research & Publications (Summary); Published Poems (in periodicals, anthologies and books)].
VEDRINE, Josee; Profile. [University of Puerto Rico, Humacao. Areas: Electrical Engeneering, Physics, Solar Energy, Management].
VETERIMED [Yon ONG (òganizasyon non-gouvènmantal) k ap ede nan devlòpman. Se yon gwoup pwofesyonèl ayisyen ki kreye l nan lane 1991. Pwofesyonèl sa yo vle pote yon kontribisyon nan devlopman peyi a, nan travay ak peyizan yo. LOKALITE (Ayiti): 178 rue Alerte, Port-au-Prince, Haïti. HT6112; Tel. (509) 222-9360; Faks (509) 223-4512; E-mail: veterimed@gmail.com. Gade kèk atik yo pibliye: Atansyon Maladi Laraj, Konferans sou avni elvaj poul an Ayiti, Lafyèv Kochon (Maladi PPC), Maladi Chabon, Maladi Newcastle, Parazit yo)].
VWAYAJ NOUYÒL. 2006. Toya Setout. Eds. KIK, Inivèsite Karayib/Université Caraïbe. 37 p. [Illustrated Short Story for children in Haitian Creole /Istwa ilistre pou timoun an kreyòl. Illusrated in color by | Ilistrasyon an koulè: Martin René].
VOICES OF THE SUN | LES VOIX DU SOLEIL | VWA SOLÈY PALE. 2009. (edited by) Tontongi. Trilingual Press. 404 p. ISBN: 978-0-9745821-6-0 [An anthology of Haitian poets; published in 3 languages; it includes 67 Haitian writers and artists from different generations].
W-
WIKIPEDIA kreyòl ayisyen | creole haïtien | Haitian Creole..
WINDOWS ON HAITI ["One of the growing research site on Haiti - research appears in English, Kreyòl, French and Spanish" | Yon sit rechèch sou Ayiti ki parèt nan lang anglè, kreyòl, fransè e espayòl].
WINDOWS ON HAITI'S HAITIAN HISTORY PAGE [A few women in Haitian History | Kèk fanm nan Istwa Ayiti; Acte de l'Indépendance (1/1/1804) | Ak Endepandans; Eduardo Galeano; Frederick Douglass; Wendell Phillips (Lecture on Toussaint); Heroes of Haiti | Ewo Ayiti yo; Le Code Noir Edit. Du Roi Mars 1685 |Kòd Nwa; Ordonnance de Charles X (17/4/1825); Proclamation de Dessalines (1/1/1804) | Pwoklamasyon Desalin; Troubled Lives in the Dominican Republic; U.S. & Haiti's Revolution; U.S. Occupation of Haiti (1915-1934) | Etazini okipe Ayiti; Wendell Phillips (A French translation)].
Y-
Yon chen malveyan | A naughty dog. Emmanuel W. Védrine. [Short story in Creole].
YON LEKÒL TÈT ANBA NAN YON PEYI TÈT ANBA. Iv Dejan (Yves Dejean). 2006. FOKAL. 342 p. ["An upside down school in an upside down country"; On the problem of schools and education in Haiti. -- Premye chapit: Fèy pistach ak fèy kanpèch; Lide plizyè edikatè sou lekòl ak lang; Chapit 3: Konprann sa w aprann oubyen sa w pa konprann?; Chapit 4: Elèv ayisyen se moun vini nan pwòp peyi pa yo; Chapit 5: Ki moun ki pale franse: Chapit 6: Pale angle; Chapit 7: Timalis nan wout peyi pa konnen; Chapit 8: Bouch pou pe; Chapit 9: Eske Jak Stefèn Aleksi (1922-191) te kwè nan mirak?; Chapit 10: De towo pa kòmande nan menm savann; Chapit 11: 7 ane; Chapit 12: Eske ou konn li?; Chapit 13: Eske Ayiti chita pou kont li nan yon kwen lè li benyen nan lang kreyòl li a?; Chapit 14: Edikasyon nòmal yon mas plizyè milyon timoun; Chapit 15: Kòm si yo pral nan fèt; Chapit 16: Pàn wout ak mikwòl feblès lespri; Chapit 17: Vyat di gen chwa, di pa gen chwa; Chapit 18: Remèd kle, metsin anmè; Chapit 19: Pale franse pa lespri; Chapit 20: Lè yon lang rele moun chè mèt chè metrès, sa sa vle di?; Chapit 21: Se kondisyon ki bat kòk; Chapit 22: Malè pandye nimewo 213; Chapit 23: Konkòday Legliz ak Lekòl; Chapit 24: Eske Ayiti gen yon pè lang?; Chapit 25: Lèt ak sitwon – Teyori egalego se revè teyori esepte].
Z-
ZEPHIR, Flore; e-mail: zephirf@missouri.edu [University of Missouri. Dept. of Romance Languages & Literatures – Her research interests include: Foreign language education; Bilingual education; Creole studies; Sociolinguistics, and Ethnic and Immigrant studies with a particular focus on the Haitian diaspora in the United States].