Potomitan
Site de promotion des cultures et des langues créoles
Annou voyé kreyòl douvan douvan
Education should be free and mandatory for all in Haiti
Edikasyon ta dwe gratis e obligatwa pou tout moun Ayiti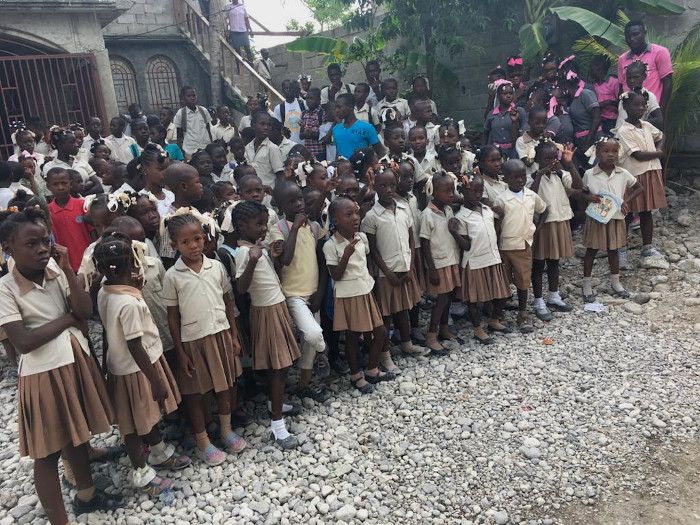 Photo: Courtesy Enock Fedna,
New generation 4 Haiti
November 16, 2020 : 16 novanm 2020
1. We must be aware that all children in Haiti (ages 5 to 19) have the right to free education (from kindergarten to the end of secondary school).

1. Nou dwe pran konsyans ke tout timoun Ayiti (depi laj 5 an rive 19 an) ta dwe gen dwa a yon edikasyon gratis ti cheri (soti matènèl pou rive fen lekòl segondè).

2.The school should lend them materials such as books at the start of the school year in September and they would return them in June, when school is about to be closed.

2. Lekòl ta dwe prete yo materyèl tankou liv lè ane eskolè a kòmanse an septanm, epi pou yo ta remèt yo an jen lè lekòl ap fèmen.

3. It would be important to listen to the specialists (in education without talking too much) who know and work in the field, and to analyze their proposals.

3. Li enpòtan pou n ta tande sa espesyalis (nan edikasyon di san pale anpil) ki konnen e ki travay nan domèn lan, epi epi analize sa yo pwopoze.

4. We don't have to act with emotion if we want to see change. It takes wisdom, strategy, awareness, hard work and eliminating too much talking.

4. Nou pa dwe aji ak emosyon si n vle wè chanjman. Sa mande sajès, estrateji, konsyantizasyon, travay di epi elimine pale anpil.

5. Creole vs French. There is still politics behind the use of these two official languages ​​of Haiti which prevents them from being fully used in schools. It is clear that neither can be eliminated from education and they are part of the linguistic heritage of the country. We must rather use them effectively as a tool that we use so that it does not harm us.

5. Kreyòl vs fransè. Toujou gen politik dèyè itilizasyon de lang ofisyèl sa yo Ayiti, ki fè yo pa itilize nòmalman oubyen antre danble nan lekòl. Li klè ke nou pa ka elimine youn nan yo nan edikasyon, e yo fè pati de patrimwàn lengwistik peyi a. Donk, nou dwe itilize yo nan bon fason kòm yon zouti n ap itilize pou l pa blese nou.

6. All teachers should attend compulsory seminars every five years (for re-training) on ​​ teaching techniques, using teaching materials, technology in education and what it means.

6. Tout anseyan dwe suiv seminè obligatwa chak senk an (pou resikle, ou resiklay pedagojik) sou teknik pou anseye, itilizasyon materyèl didaktik, teknoloji nan edikasyon e kisa sa vle di.

7. Technology in education in Haiti1. Haiti is late to use it in this sense. There is the absence of laboratories at all levels. Computer courses that should have been part of the school curriculum. Electronic versions of teaching materials, and documents should be free online in order to help students with research and homework assignment.

7. Teknoloji nan edikasyon Ayiti1. Ayiti an reta nan sans sa a pou itilize l. Gen absans laboratwa nan tout nivo. Kou konpwoutè (enfòmatik) ta dwe fè pati pwogram lekòl la ou korikilòm. Vèsyon elektwonik materyèl didaktik yo, ak dokiman ta dwe gratis an liy dekwa pou ede elèv ak rechèch e ak devwa.

8. The teaching of French, English and Spanish as a foreign language (from elementary level), practical methods for teaching children using audio and audiovisual materials without emphasizing on (written) grammar, on writing but rather on oral (for example, conversation in class and dialog development in small groups).

8. Ansèyman fransè, anglè, ak espayòl kòm lang etranje (depi nivo matènèl), metòd pratik pou anseye timoun ak materyèl odyo, odyo-vizyèl san anfaz sou gramè (ekri), sou ekri men sou oral (pa egzanp, konvèsasyon nan klas, e devlopman dyalòg an ti gwoup).

9. Development of bilingual teaching materials: French–Creole /Creole–French, Creole–English /English–Creole (from kindergarten to secondary level).

So, we should live with the reality the way the world is going. That is, teaching materials that being developed (from kingergarten level) shouuld be blingual (Creole - English, French - Creole) to help students since early on in terms of linguistic reality that they will be facing soon. We must also think ahead about the solution to the linguistic problems and linguistic planning without talking a lot. Here, we can neutralize the linguistic problems for all social groups peacefully at the socilinguistics level.

9. Devlopman materyèl didaktik bileng: fransè–kreyòl /kreyòl–fransè, kreyòl–anglè /anglè–kreyòl (de nivo matènèl a segondè).

Donk nou dwe viv ak reyalite jan lemond prale. Sètadi, materyèl didaktik k ap devlope yo (depi nivo matènèl) ta dwe bileng (kreyòl–anglè, fransè–kreyòl) pou ede elèv depi bonè an tèm reyalite lengwistik ke yo pral fè fas ak li byento. Nou dwe panse davans tou a solisyon pwoblèm lengwistik yo e amenajman lengwistik san pale anpil. La a, nan yon sans, nou kapab netralize pwoblèm lengwistik yo pou tout kouch sosyal, san bri san kont o nivo sosyolengwistik.
Note
Annexed Texts : Tèks anekse
VEDRINE, Emmanuel W.
Poetry in Haitian Creole. 1994 (ed, 75 p). [Pwezi an kreyòl, enkli kolekesyon: «Kri pou liberasyon», «Koze Lanmmou I, II»].

A Bibliography of Theses and Dissertations related to the Dominican Republic. 276 p. (Research done upon the request of His Excelency, Dr. Lionel Fernandez, President of the Dominican Republic).

A look at Higher Education in Haiti: another step after secondary level | Koudèy sou edikasyon siperyè Ayiti: yon lòt etap apre nivo segondè. [Tèm abòde: (12.a) An tèm rechèch, èske chak fakilte soti oubyen pibliye yon revi (ak piblikasyon baze sou rechèch) 2, 3, 4 fwa lan?. (12.b) Bidjè anyèl inivèsite a (Kòman inivèsite a travay sou bidjè anyèl li pou sipòte chak fakilte?; Ki pwoblèm ki toujou prezante?). (12.c) Èske gen anpil pwofesè ki ta gen yon preferans jwenn materyèl didaktik yo bezwen an fransè, kreyòl, bileng (fransè – kreyòl, fransè – anglè, anglè – kreyòl)?. (12.d) Èske nan kèk kou yo itilize liv, materyèl didaktik an anglè?. (12.e) Èske si etidyan yo gen yon liv oubyen tèks an fransè pou klas, pwofesè yo bay esplikasyon an kreyòl, fè kòmantè sou li an kreyòl?. (12.f) Finansman fakilte yo, e wòl. (12.g) FAR (Fonds d'Appui à la Recherche) jwe fòmasyon etidyan yo, e pou fòmasyon pwofesè yo menm. (12.h) Kesyon sou kreyasyon kanmpous inivèsitè (Kisa n panse si UEH ta gen yon kanmpous (byen ekipe) nan chak depatman peyi a?). (12.i) Kijan pwofesè nan UEH (selon fakilte yo) eseye tabli kontak ak pwofesè, chèrchè ayisyen aletranje ki nan menm domèn?. (12.j) Kijan yo ankouraje itilizasyon oubyen pratik lang anglè a? Èske l obligatwa pou etidyan yo pran kou anglè? (12.k) Kijan yo wè koze laboratwa nan inivèsite an Ayiti (12.l) Kisa n panse si UEH ta travay ofisyèlman sou kèk Pwogram d Echanj ak inivèsite lòtbò dlo?. (12.m) Konsènan abònman, èske inivèsite a ta abòne nan enstitisyon aletranje?. (12.n)Lang d enstriksyon (lang pwofesè ap itilize pou prezante sijè y ap anseye nan klas). (12.o)Materyèl, dokiman an liy (sou entèt la). (12.p) Memwa de sòti (kisa ki jistifye demann sa a). (12.q) Nan ki lang pwofesè yo prezante (matyè ou sijè y ap anseye), pale nan klas?. (12.r) Preparasyon anseyan nivo elemantè, mwayen (Ki preparasyon anseyan nivo elemantè, mwayen dwe genyen avan yo kòmanse anseye? Kijan yo rekrite yo an tèm diplòm, sètifika?, Nou konnen gen anseyan ki pa nòmalyen ki ta antre nan sistèm nan ap anseye. Sa k pase?; Kijan sa fèt pou antre nan ENI? Èske se apre Bakaloreya? Oubyen apre yon Lisans inivèsitè?; Youn nan trajedi nan domèn edikasyon Ayiti se ta fèmti plizyè ENI. Kijan nou ta kòmante sou sa; Ki efè sa vin genyen sou nivo fondamantal la, kòm edikasyon de baz?). (12.s) Pwendvi sou bibliyotèk (Kijan kesyon bibliyotèk la ye o nivo prive?, Kijan sa ye nan fakilte yo?). (12.t)Pwogram Echanj ak inivèsite aletranje. (12.u) Pwogram Echanj ak inivèsite lòt bò dlo (Kisa n panse pou UEH ta travay ofisyèlman sou kèk Pwogram Echanj ak inivèsite lòtbò dlo ta anseye an Ayiti pandan yon trimès (nan diferan fakilte)?). (12.v)Revi syantifik (nan kad dokimantasyon) pou fè rechèch. (12.w) Sendika pwofesè (Ki pwa pwofesè yo pou eseye fè chanjman yo kapab?). (12.x) Seyans fòmasyon pou oryante etidyan, pwofesè (Ki enpòtans chak fakilte bay seyans fòmasyon, depi nan premye ane pou gide etidyan, oryante yo vizavi karyè (pa egz, estaj ou «internship ou estaj» pou yo ta fè nan domèn etid yo, estaj ou obsèvasyon) nan peyi etranje?). (12.y) Wòl wot teknoloji dwe jwe nan edikasyon (nan tout nivo).]

A look at the problem of schools in Haiti: comments and suggestions | Yon koudèy sou pwoblèm lekòl Ayiti: kòmantè ak sijesyon.

An Annotated Bibliography on Haitian Creole : a review of publications from colonial times to 2000. 700 p.

Charla Lingwista Haitiano Emmanuel W. Védrine na NAAM (Curaçao). [Linguistic chatting with Haitian linguist Emmanuel W. Védrine on Haitian Creole Bibliography, 200 years of publications. Courtesy of Myriam Lavache (Kreyòl Pale, Kreyòl Konprann Institute of Spoken Kreyol. Curacao; Richenel Ansano (Director of NAAM]; Yaniek Pinedo Védrine (translator). 2016.

Di yon vèb, tire yon kont (From a verb, I will tell you a riddle in Haitian Creole).

Dictionary of Haitian Creole Verbs with phrases and idioms. 1992. Soup to Nuts: Cambridge, MA. 246 p. [Reprint by Educa Vision]. [Research reference in Haitian–English Dictionary, University of Kansas; reference in Haitian Creole-English Bilingual Dictionary (HCBD). Indiana University - Creole Institute. 2007.

E. W. Védrine ESL Lessons. [Modèl plan leson pou anseye anglè kòm lang etranjè pou debitan].

Easy English: an introduction to English for Creole and French speakers (with Oreste Renel Joseph). [Glosè nan fen liv la Emmanuel W. Védrine ajoute - enkli fraz ak espresyon idyomatik nan de lang yo; Entwoduction anglè pou kreyolofòn e frankofòn; Plis pase 1.400 mo ak espresyon ki vin ak yo]. 2020.

Edikasyon Bileng Ayiti : Teyori e Pratik: Bilingual Education: theory and practice. [Modèl tradiksyon kòtakòt pou pratik nan seminè tradiksyon : Side by side translation models].

Est-ce le créole un bon outil pour apprendre à l'école en Haïti?: Èske kreyòl se yon bon zouti pou aprann lekòl ? (Is Creole a good tool to learn in school?).

First step with computers : Premye etap avèk yon òdinatè. [Computer manual : Manyèl pou anseye konpwoutè (òdinatè)].

Gramè Kreyòl VEDRINE Grammar of Haitian Creole. 1996. 354 p. GKV Index. [First Haitian Creole grammar ever writtien in Haitian Creole covering all grammatical aspects of the language : Premye gramè an kreyòl ayisyen ki kouvri tout aspè gramtikal gramatikal lang nan. [Take a look at the Index to see what it covers to do exercise in class : Gade endèks li pou wè sa l kouvri pou fè egzèsis nan klas].

Haitian Creole - English Bilingual Dictionary (The "DICO Project", Vol. I). 2007. 781 +xxxiv p. Indiana University–Creole Institute. Project director: Albert Valdman; native speakers editing team: Emmanuel W. Védrine, Frenand Léger, Jacques Pierre, and Nicolas André. Vol. II: English – Haitian Creole Bilingual Dictionary. Publisher: Universe, Bloomington, Indiana 2017. 1148 pages.

Ide pou kreye yon High School Ayisyen prive nan Boston. [debate : deba]. 1994. 102 paj.

Interview with Haitian linguist, Emmanuel W. Védrine… October 2000.

Ki lang k ap gen batay la Ayiti: kreyòl, fransè ou anglè?. (poetry : powèm). [Which language will win the battle in Haiti: Creole, French or English?].

Konsyantize - Motive - Chanje : Raising awareness, Motivate and Change.

Kreyol Lesson for beginners: an introduction to Haitian Creole.

L'importance d'acquérir un diplôme de fins d'études secondaires : Enpòtans pou dekwoche yon diplòm fen etid segondè.

Leson KLE : Kreyòl Lang Etranje. [Modèl plan leson pou anseyan anseye kreyòl an liy (long distans) kòm lang etranjè].

Materyèl Edikatif pou Bileng Ayisyen. [Esè, istwa kout, pwezi]. 218 p.

Men l anlè a l ap vini. ("He is in the air coming"). [Istwa kout : short story]. ed. Orèsjozèf Publications. 1997. 34 p.

Online information for Haitian students and teachers. (Enfòmasyon an liy pou elèv e anseyan ayisyen).

Petit Lexique du Créole Haïtien. 1995. 75 p. [Diksyonè pou rechèch sou lengwistik istorik].

Quelques plantes créoles et leurs noms en latin : Kèk plant kreyòl ak non yo an laten.

Sezon sechrès Ayiti (woman peyizan). Tèks an fòma pdf (2nd. ed.). JEBCA Editions. 224 p. [Rezime an anglais]. [© by the author's copyright : © Dwa otè a] . [© Lexical data (for hyper base software for dictionaries) : © Done leksikal (pou lojisyèl ipèbaz pou travay sou redaksyon diksyonè)]. [An lang papiamento, Temporada di sekura na Haiti. [Premye vèsyon orijinal la te pibliye an1994 pa Soup to Nuts Publishers, Cambridge, MA. 1994. 128 p. [Otè a, Emmanuel W. Védrine, tradui l an anglè. VEDCREP: Boston, edisyon, 2013, 163 p.

Sistèm Alfabè Kreyòl Aysiyen: The Haitian Creole Writing System. [Gid pou ekri an kreyòl : guide to write Creole].

Some questions to open debates on the problem of education in Haiti : Kèk kesyon pou ouvè deba sou pwoblèm edikasyon Ayiti.

Teaching materials for schools in Haiti : Materyèl pedagojik pou lekòl Ayiti.

The use of Creole in schools in Haiti (use of the urban variation and the tendency to reject the rural one: Sociolinguistics and the reality behind it).

Ti istwa kreyòl: Short stories in Haitian Creole 115 p. [Seven short stories in Haitian Creole: (1) «Yo knbe bouki anndan vant yon bèf»; (2) «Konpè Chat ak dirije yon lekòl»; (3) «Yon chat de pye ak yon enkoutab»; (4) «Chanje lide»; (5) «Yon manman poul touye yon malfini»; (6) «Elefan prezide yon konferans bèt sovay t ap konfwonte»; (7) «Gade yon mirak!»... With questions and exercises on each story, including a Haitian proverbs section (on animals) and a Creole – English glossary. Illustrated by the author. A textbook for middle and high school level, for native speakers and learners of Haitian Creole. -- The purpose of this book is to allow greater access to those interested in Kreyòl and English. As a guide for speakers of both languages, it can be used for different purposes. – Following each story is a list of questions, vocabularies and expressions for exercises. There is also a section on illustrated Haitian proverbs dealing with animals, and finally a Kreyòl – English glossary that can be useful to English speakers…].

Twenty five Years of Research and Publications on Haiti, the Haitian Diaspora, and on Haitian Creole: 25 (Vennsenk) Ane Rechèch ak Piblikasyon sou Ayiti, Dyaspora Ayisyen, e sou Kreyòl Ayisyen.

Yon koudèy sou pwoblèm lekòl Ayiti. [Tèks la nan fòma pdf, 221 p. edition /edisyon 2007. [Sikilè pou rechèch sou tèm nan. (A look at the problem of schools in Haiti). Abstrè : Abstract | Rezime anglè]. [Essays on the problems of schools in Haiti and interviews with some Haitian educators from the diaspora. A textbook for educators, students (high school and college level) and researchers.]
He is against selfishness because it's a poison that nourishes underdevelopment in Haiti. (Ref. article «Egoyis: yon viris k ap detwi kominote ayisyen» (Selfishness, a virus destroying the Haitian Community).


He believes in Haiti's development, and considers these 7 essential pillars to help this development to happen rapidly:

(2.1) Agriculture (its development, and investment in food production). Ref. article: «Agrikilti ta dwe premye sib nan devlopman Ayiti». (June 2004). "Agriculture the first Target for Haiti's Development". Boston Haitian Reporter, July 2004.

(2.2) Entrepreneurship (orientating youths to think of becoming entrepreneurs while in school [from elementary, middle school, and continue to the secondary level], and for this idea to be part of the program or the school curriculum in Haiti. In the same line of idea, we are encouraging all schools in Haiti to think about that, and how they can implant some trades in the public and private schools so that students can practice them. We can think of creating also a center (that would exist in all communes) to learn different trades, in order to create activities for students. We mention many times how Fridays can be used to do these activities.

(2.3) Education (reform that should be done in the archaic education system in Haiti and the necessity to have a practical education, the importance for Haiti to look at the school programs in the French territories such as Martinique, Guadeloupe, French Guyana, and in (the) Seychelles (archipelago), the school curriculum of (the province of) Quebec (in Canada), made videos with them as samples to make training seminars for teachers in Haiti, and develop a whole online database with them as resources to help all teachers in Haiti. That way, a practical and modern curriculum can be adapted for Haiti (from elementary level to the end of the secondary level).

(2.4) Electricity (in all ways it can help).

(2.5) Health (programs, and health insurance for everyone).

(2.6) Security (for everyone so that they can function normally in their activities, without any fear).

(2.7) Roads (good roads to help decentralizing Haiti rapidly for its development, for the development of the communes, and local and international tourism).

He believes in what a person has already done, but not in what individual is planning to do (the future belongs to nobody, and as the saying goes, "Don't count your chicken before they hatch".

He believes in competition (not in the sense to destroy what others are doing) but rather to produce what's better, and to avoid or discourage mediocrity from taking over.

He believes in civic works (how to educate, and encourage all youths to participate in civic works to help their community, their communes, and country), how this is going to help them also to develop leadership early on. Reference article: «Travay sivik ta dwe obligatwa pou tout jèn an Ayiti».

He believes in individual works (to learn to meet challenges), and for each person to show their potential (for example, working in school, taking exams… because it's not all the time we can count on people or work with others) and at the same time, working in team but with people who share the same working spirit, and without mediocrity.

He believes in working to the maximum (to reach an objective) without talking a lot, and without wasting time criticizing others (for what that has not been done a long time). In Haiti, for instance politicians and individuals would talk more, spend more time criticizing others instead of learning to create or to meet challenges, try to do what has not been done since "x time", instead of complaining all the time).

He believes in a free education for all little Haitians till the end of secondary school to help in Haiti's development for real, an materials that schools can lend them (the beginning of the academic year in September, and that students would return them (when school is about to be closed in June). We can't talk about Haiti's development when most Haitians can't read and write, when there are no free and mandatory schools for all children (from a certain age).

He believes in a practical education (where students can help themselves with what they learn in school. They can help their country in return, and their local commune). Schools should trades, and laboratories accessible to students. Friday can be used as a particular day to do many activities such as: visiting other regions of Haiti (to compare and contrast them), visiting historical, touristic places… and even go to the Dominican Republic with students to compare the two countries (and make students conscious of what is necessary to do in Haiti). Reforestation activities (planting trees), making nurseries for reforestation, and for agriculture must be among these activities. Reference article: "Agriculture the first target for Haiti's development". Boston Haitian Reporter, July 2004) : "Agrikilti ta dwe premye sib nan devlopman Ayiti" (jen 2004); "Le reboisement d'Haïti, un défi politique et environmental" (What's really needed to be done to reforest Haiti? : Kisa k dwe fèt reyèlman pou rebwaze Ayiti?); Estrateji pou rebwaze Ayiti (Strategies to reforest Haiti : Stratégies pour reboiser Haiti); Kijan yon plant fèt (How a plants is made : Formation d'une plante); Dyalòg sou rebwazman an Ayiti (Dialog on reforestation in Haiti : Dialogue sur le reboisement en Haïti); Kèk plant kreyòl ak non yo an laten (Some Creole plants and their names in Latin : Quelques plantes créoles et leurs noms en latin); Ayiti, yon peyi ravaje nou dwe sispann detwi. Bon Nouvèl #352. 1999 (Haiti and the destruction of nature : Haïti et la destruction de l'environnement); Ann pale de bwa ak fri Ayiti! (Ref. Materyèl Edikatif pou Bileng Ayisyen, pp. 160-180, Let's talk about trees and fruits in Haiti! : Parlons de bois et fruits en Haïti); Sezon sechrès Ayiti (pesants' novel) Season of drought in Haiti.

He likes working with discipline (responsibility, and commitment in doing some works is important, and it reflects one's character) in all that we are doing and with transparence.

E. W. Védrine Creole Project, Inc.
Boston, Massachusetts. USA
*