Potomitan
Site de promotion des cultures et des langues créoles
Annou voyé kreyòl douvan douvan
Séisme à Haïti - 14 août 2021
Testimony of L'Asile former mayor and representative,
Lemane Premier on the August 14, 2021 earthquake
destroying this commune,
other places of Nippes and South Haiti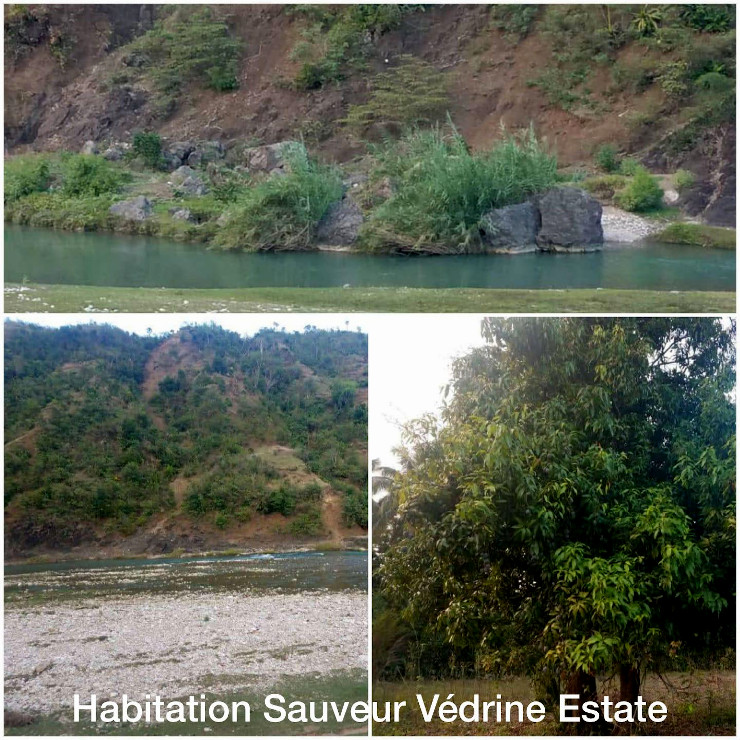 Habitation Sauveur Védrine, Tournade - Ka Mathias, L'Asile
(Courtesy E. W. Védrine Creole Project Archives)
Yon ti pale ak ansyen depite komin lan LEMANN PREMIER sou tranblanntè 14 dawou 2021 an

Pubblicato da L' ASILE PAM su Sabato 21 agosto 2021
(Courtesy L'Asile PA M)
Other texts on the earthquake that struck L'Asile (Lazil) • Tranblemanntè 14 dawou 2021 kraze komin L'Azile (Lazil) ak Sid Ayiti (enkli resous an liy pou ede Lazil) – English version: Haiti's August 14, 2021 earthquake destroying the commune of L'Asile (Lazil) and South Haiti (including online resources to help L'Asile, and other communes.
TESTIMONY (LEMANE PREMIER)
(August 22, 2021)
(Transkripsyon kreyòl, e tradiksyon anglè: Emmanuel W. Védrine (natif Lazil)
Haitian Creole (Kreyol) transcript and English translation by Emmanuel W. Védrine (a native of L'Asile).
Let me greet everyone who is in charge of LAZIL PAM page, and I also greet all those who are watching and listening to us attentively. Congratulations to LAZIL PAM!
My name is Lemane Premier, former mayor and representative of L'Asile, member of Civil Protection, teacher for 25 years up to today. It is a pleasure for me to be on this group at this moment. We are, at least briefing you on the devastating earthquake's situation of August 14, 2021 that took place in the community. So, first of all, let me present my words of sympathy, of comfort, of courage to the whole community in general, to the entire population of L'Asile, and also to all those in the great south who are victims in relation to the situation or this devastating earthquake.
In fact, to date, according to all patrollings, the entire checking across L'Asile thus we have recorded a total of 33 deaths. That is, normally we have 33 people who died that we know of but there are citizens who seemed to be disappeared at the time of the latest earthquake. There were those who had already gone to their animals' pasture in the mountains. There were also people who went to the mountains taking care of some farming or agricultural business, and according to information we got they have not yet returned home. So, they have not yet seen them; we are talking about these people as disappearing ones. And, I must tell you, if you start out from Belle-vue (for those who know L'Asile well), you pass by Senzenj to Charpentier, to Kafou jedi (Carrefour Jeudi) to Abricot, you take Honoré (Onore), you take Fleran, you take Pwenso, you take Changeux… on every 10 houses, 9 houses have been destroyed and the house that is left is one in which no one can live. So that means the population of L'Asile, and this is almost a similar case for all communities because I visited everywhere.
Kleri has no house left; for Sannayi (Sanayi), it's terrible!. When taking center of town for instance, a bunch of houses… not only the houses you see standing, they cracked, they are broken even if you see them standing up but there are also lots of houses that fell down flat. So, the people are on the streets. This situation makes the people to be on the streets, and they are in the streets in all communities.
So today, this situation is dragging. Let's say it's something extraordinary where since yesterday (Saturday), there has been rain in the community. So, these people were already on the streets. The clothes they had are under the rubbles… in addition, they can't take anything. So, they don't have up to today temporary shelters. They have no tent, no canvas. So, you can understand what is going on today, and one of the things that is going through the community is that the rivers that used to supply the springs have been dark since the earthquake.

That is, today we are living in an extremely delicate situation and this situation requires not only instances at the national level to take a look at L'Asile because all the looks they are taking are almost on the south, on Les Cayes (Okay), on (the) Grande-Anse (region), on Jeremie but L'Asile is located 6 kilometer from the epicenter of the earthquake, and is also located 16 kilometers away from National Route #2. To date, no intervention has been made about it. And, I also estimate that all instances have been focusing on the southern area with Grande-Anse communes. Still, no real intervention has been made to help L' Asile, the most devastated commune in the department of Nippes.
In this regard, while we are on LAZIL PAM page, we appreciate and congratulate the person in charge of managing it. We send a vibrant message to tell them all national and international bodies to turn the needle on Lazil. For the territorial collectivities, for the Civil Society, the population, therefore some kind of help, because today the churches that used to serve as a temporary shelters (taking the example of the L'Asile's catholic church, all its presbytery) have collapsed.
Sant Devlopman Siloé collapsed. Compassion Internationale collapsed, Sant Devlopman Abriko (Abricot) collapsed; the same is for Carrefour Honoré (Kafou Onore). That is, the centers that used to be temporary shelters, all of them collapsed today. Some houses that used to be temporary shelters have disappeared. So, the churches are gone, the schools are gone. You see! As for houses, they are gone! So, the population is in the streets. And, together with Hurricane Grace in the air, it's becoming worse. There was some rain a while ago. Everyone had to be under some trees, under the banana leaves, sheltering from the rain. Watching toddlers of some poor women holding them in the streets is heart breaking.
So, we hope the needle is reversed to focus on L'Asile. There is a focus on the south. We are not saying not to do so, but it can also be on L'Asile in a way that the government at the highest level, the international and national bodies that bring aid to help the population of L'Asile who is really in difficult situation. And, I would even think to say that it would be important for the same government at the highest level to declare a state of emergency, and this in all its aspects, in all its integrity on L'Asile which is really in danger, and more precisely they need: temporary shelters, tents, canvas, water is also very important. Water is life.
So, it is an emergency where the population can no longer wait. Thank you so much to those who are in charge of LAZIL PAM page! I hope these little words will go far, and bring great assistance to L'Asile because we need it. The houses have been destroyed. In addition, even L'Asile hospital (Hôpital Communautaire de Référence) today, finds itself in a very critical situation where the operating room collapsed, the maternity ward collapsed, and the administrative block collapsed.

So, that means everyone who comes to the hospital can't even get assistance because the hospital is on the street. Doctors would like to get good tents, and sanitary kits… and true intervention is needed to be done. In fact, today, we present a briefing on the situation as it is because L'Asile is down; it's in danger; it has been destroyed. In the center of town, it's cry here and there. So, we hope support be taken into consideration so that things don't get worse than the situation we are in today in L'Asile .
(End of testimony)
*
RESEARCH NOTE : NÒT POU RECHÈCH
• Atelye an liy pou Anseyan Ayisyen : Online Haitian Teachers Workshops • Atelye pou ekriven ayisyen : Haitian writers workshops • Devlopman komin Ayiti : Developing Haiti's communes • Estrateji pou aprann prepare pou demen sou tout fòm : Strategy to learn to prepare for tomorrow in all ways • Estrateji pou devlope Komin Ayiti pou desantralize Ayiti : Strategies to develop Haiti's Communes to decentralize Haiti • Komin Ayiti, e travay sivik moun ki sot nan komin yo dwe fè : Haiti's communes and civic works needed to be done by locals • Literati Ayisyen an kreyòl : Haitian literature in Kreyòl
• Literati Ayisyen Dyaspora : Haitian literature of the Diaspora • Materyèl Didaktik /Pedagojik pou moun k ap aprann kreyòl : Teaching Materials for Learners of Haitian Creole • Materyèl Didaktik /Pedagojik pou Pwogram Alfabetizasyon an Kreyòl : Teaching Materials for Haitian Literacy Programs in Haitian Creole • Materyèl Pedagojik /Didaktik an liy pou ede Anseyan Ayisyen e Elèv : Online Teaching Materials to help Haitian Students and Teachers • Materyèl Pedagojik /Didaktik an liy pou ede Lekòl Ayiti : Online Teaching Materials to help Schools in Haiti • Modèl dokiman nou ka mete an liy (sou entènèt) pou ede Ayiti e Dyaspora Ayisyen nan tout domèn : Document models that can be published online to help Haiti and the Haitian Diaspora in all areas • Oraliture : Literati Ayisyen oral /oraliti : Haitian oral literature • Séisme à Haïti – 12 janvier 2010: Haiti's earthquake -- January 12, 2010 • Séisme à Haïti – 14 out 2021 : Haiti's earthquake – August 14, 2021 • Tradiksyon (anglè, e kreyòl ayisyen] : Translation (English and, Haitian Creole /Kreyòl) • Tranblemanntè dawou (out) 2021 ki frape Sid Ayiti : August 2021 earthquake that hit South Haiti.
E. W. Védrine Creole Project, Inc.
Boston, Massachusetts. USA.
*