Potomitan
Site de promotion des cultures et des langues créoles
Annou voyé kreyòl douvan douvan
Learning Haitian Creole at a glance
Home Intensive Creole Language Training for Foreigners
(HICLATFOR)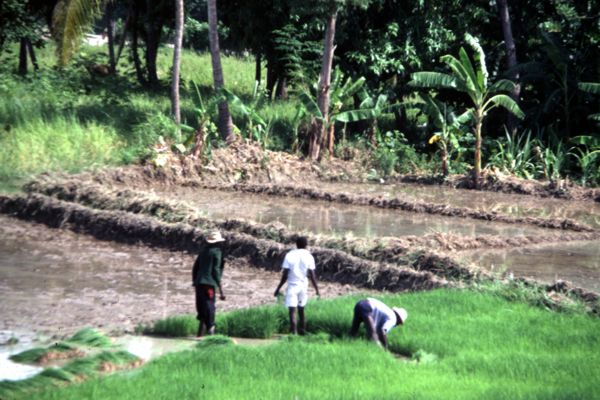 Campagne haïtienne (1983). Photo F & F Biaggi.
Building Haiti's hope for tomorrow ---.
It would be impossible for any non-Haitian who wants to be in Haiti (for a while) to work, to do research, or for any purpose not to know the native language of all Haitians. Though a low percentage of the population can speak French or understand it but people usually feel more warmth when one can speak their native language.
Choosing to study Haitian Creole with us will allow you to make great difference among other learners.
Our teaching materials available to learners will enable them to reach their linguistic goal.
We are quite open and willing to work with the learner focusing on what that individual wants to learn.
Knowing the Haitian language will help you discover Haiti better. It will enable you to know quicker about its history, culture, environment, population and much more. You will feel part of the Haitian culture, and certainly the linguistic background will help also to perform better at the work place.
Again, we are flexible in terms of your focusing lessons and our service is great where each learner will feel relax and confident while studying with us! Helping you master the language to be able to speak with any native speaker as quickly as possible is HICLATFOR's main goal. Please, don't hesitate to contact us:
Jean H. BELLEFLEUR,
Former Language Instructor -
Peace-Corps, Haiti
HICLATFOR's CEO,
Woodstock, NB Canada
Email
N.B.: We offer translating services in: French – Haitian Creole – French; French – English –French; English – Haitian Creole – English; Spanish – Haitian – Spanish (legal, medical, and literary documents).
Tutoring Haitian Creole and teaching some safety strategies.

Teaching Haitian Creole to NGO's international staff as needed.
FASTTRANS SERVICES/SÈVIS TRADIKSYON RAPID
Fast Translation Services
Services de Traduction Rapide
servicios rápidos de traducción
schnelle Übersetzungsdienste
Certainly, we are a branch of HICLATFOR (Home Intensive Creole Language Training For Foreigners) program, hopefully, another branch which is offering different kind of services mainly in translation field to all kind for about 22 years and more to individuals, Christian Ministries, International Organizations, enterprises and companies if needed. Since November 2016 – Now, we are providing support in humanitarian work and be part of a Crisis Team at TWB (Translators Without Borders) & UN Volunteering online.
QUALIFICATIONS:
Freelance translator affiliated to: Translators Without Borders (TWB)
Freelance translator affiliated with: United Nations Volunteer Online for Translation
Freelance translator affiliated with: Editions Fifi and Patou – Switzerland
Freelance translator affiliated with CTINB (Corporation of Translators and Interpreters of New Brunswick)
Freelance translator affiliated with: United Nations Volunteer Online for Translation
Editing texts
Candidate for approval with CTINB
2016: Candidate for Translation Certification with GLOBAL TRANSLATION INSTITUTE
(GTI) Key Biscayne, FL.
WORKING WITH TRANSLATION: THEORY AND PRACTICE CARDIF UNIVERSITY
Tutoring Services online and practical advices
Bachelor in Natural Health Sciences
Work effectively with organizations, companies and other private enterprises
Motivate students
Interactive Learning and Teaching
Development Plan for Haitian Creole Creative Lessons
Bachelor of Christian Studies (will be completed soon)
Haitian Creole online material productions
Types of documents we translate / Kalite dokiman nou tradui:
| Brochures-Pamphlets-Banners for Missions & NGOs/ Bwochi -Ti livrèt-Banyè pou Misyon yo & ONGs | Religious Documents / Dokiman Relijye | Editing texts composition for musicians-Artists / Korije tèks konpozisyon pou mizisyen-Atis |Songs Interpretation in Haitian Creole| Entèpretasyon Chan nan Kreyòl Ayisyen | Adoption Document | Dokiman Adopsyon |Advertisement | Reklam | Medical Manual | Manyè Medikal | Training Course| Kou Fòmasyon | Training Manual |Manyèl Fòmasyon| Business Plan | Plan Biznis | Patent | Patant | Grant | Sibvansyon | Balance Sheet/Fèy Balans | Sales Catalog| Katalòg Lavant | Sales Letter | Lèt Lavant | Company Profile | Pwofil Konpayi | Company Catalog| Katalòg Konpayi |Company Magazine | Magazin Konpayi | Contract| Kontra | Cover Letter | Kouvèti Lèt | CV | Resume | Kourikouloum Vitae |Product Outline | Pwodui an liy | Interview | Entèvyou | Operating Instructions | Enstriksyon pou itilize | Invoice | Fakti |Agreement | Akò | Identification Card | Kat Idantifikasyon | Form- Questionnaire | Fòm-Kesyonè | Report | Rapò | Email | Kourye Elektwonik | Deed | Papye Kay | Guide | Gid | Safety Documentation | Dokiman Sekirite | Lease| Kontra-lwaye |Biography | Biyografi | Statement | Deklarasyon | Story | Istwa | Newsletter | Bileten Nouvèl | News Article | Atik Nouvèl |Editing Manuals in Haitian Creole | Manyèl nan Kreyòl Ayisyen | Book| Liv | Textbook | Liv | Documentary│Dokimantè| | Manuscript |Maniskri | Manua| l Manyèl | Film | Fim | Script |Skript | Presentation | Prezantasyon | Research paper/Papye Rechèch | Magazine| Magazin | Commercial Letter | Lèt Komèsyal | Personal Letter | Lèt Pèsonèl | School Report | Rapò Lekòl | School Research-Project | Pwojè-Rechèch Lekòl | Certificate | Sètifika | Diploma | Diplòm | School Application | Aplikasyon Lekòl | Transcripts | Transkript | Web Application | Aplikasyon Entènèt | Website | Sit Entènèt | Software Manual | Manyèl Lojisyèl | Police Report | Rapò Lapolis | Visa Visitors Application | Aplikasyon Viza Vizitè | Visa Immigrants Application | Aplikasyon Viza Imigran | Video Game Text | Tèks Jwèt Videyo | Certificate | Sètifika | Birth Certificate | Sètifika Nesans |Certificate of Residence | Sètifika Rezidans | Citizenship Application | Aplikasyon Sitwayènte | Extract from the Archives | Ekstrè Achiv | Death Certificate | Sètifika Lanmò | Divorce Certificate | Sètifika Divòs | Marriage Certificate | Sètifika Maryaj | Legal and Authenticated documents | Dokiman Legal e Otantifye | Literary Documents | Dokiman Literè |etc…
Languages Pair we translate / Lang Pè nou tradui:
| French-Haitian Creole | Haitian Creole-French | French-English | English-French | English-Haitian Creole | Haitian Creole-English | Haitian Creole-Spanish | Spanish-Haitian Creole | Former Haitian Creole-Pure Haitian Creole |
Tutoring Haitian Creole and teaching some safety strategies.
Teaching Haitian Creole to NGO's international staff as needed.
Designing & translating Haitian Creole materials from other languages.
Prices / Pri:
We are flexible and open, and we don't generally discuss price with clients in a traditional way. We are rather very keen in offering a good quality, satisfying service to the clients instead. Regarding the price itself, we do that in a democratic way one on one without offending each other. Hopefully, we will be: winner-winner, not winner-loser. We normally charge according to the type of documents to translate, its content, length, number of pages, how many words in it, etc... And, via this, we give the final right price before getting involved by starting translating, upon agreement between recipients, the clients and us on a final approval by written mails. At last, the finished products will be submitted upon request by giving a deadline. If you would like to know the right price for a document, please, submit the source material via email attachment to us to receive a translation quote then.
N/B. - Also, bear in mind that all materials in English & Spanish to be translated in Canadian French are welcome.
Take advantage of our translation services by emailing at: pdghiclatfor@gmail.com, jhbellefleur7@gmail.com or call: +1 (506) 323 9224
Our quick service makes us different and delivered according to the deadlines!!!
Revised June 2018