Potomitan
Site de promotion des cultures et des langues créoles
Annou voyé kreyòl douvan douvan
Trinidad's Giant Hanuman

| | |
| --- | --- |
| | Hanuman presence, Trinidad. |
TRINIDAD AND TOBAGO, June 9, 2003: It's a most beautiful site to behold, say visitors nearing the Mandir. One passerby described it as "like visiting India itself" while foreigners who came in four maxi-taxis yesterday marveled at its beauty and serenity.
They were all eyeing the magnificent 85-foot-high Hanuman murthi - the largest outside India it's claimed, and the exquisite architectural designs of the pinkish/saffron (Kesari) colored Dattatreya Mandir at Orange Field Road, Carapichaima. Bala Swamiji, who has been living at the ashram for almost two decades, said the structure was built according to the Dravidian style of architecture of South India.
Two gray concrete elephants provide water for devotees to wash their feet before entering the main mandir at the northern side. After passing the elephants, one enters the dome. The inside of the dome has seven stages of graded architecture, with numerous figures of musicians playing the various types of musical instruments in seven different colors. This is symbolic of inviting a guest into the main hall of the big mandir.
The color schemes are the same as in India, Swamiji said. The same architectural style is evident inside the mandir dedicated to Lord Dattatreya. Inside the main mandir there are several smaller ones dedicated especially to Lord Dattatreya, Lord Siva and to the Mother Goddess. Subramaniyam Sthapati is on site sthapati (supervising architect) and twenty silpis (masons) were brought from India to do the artwork on the mandir and to build the Hanuman murthi, which took two years to complete.
"We plan to have a primary and secondary school on site, a play park and garden with a beautiful landscape to bring peace to all who visit," Swamiji said.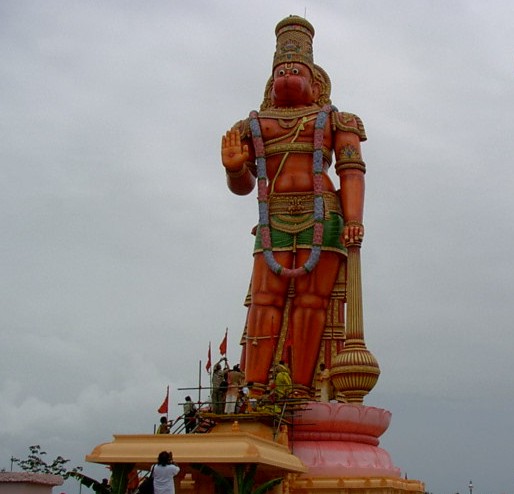 Statue géante de Hanuman à Carapichaima, Trinidad, juin 2003. Photo Devant Maharaj.
Info et photos: Devant Maharaj, Trinidad.
Retour aux liens de commémoration de l'arrivée indienne en Guadeloupe et Martinique

TRININDIANS - L'arrivée des premiers travailleurs Indiens à Trinidad et Tobago