Potomitan
Site de promotion des cultures et des langues créoles
Annou voyé kreyòl douvan douvan
Locating Guyane

Sarah Wood and Catriona MacLeod

Locating Guyane, Sarah Wood and Catriona MacLeod • Liverpool University Press • ISBN 9781786941114 • 224 pages • 2018 • £80.00
The first book to examine Guyane from multiple perspectives: combines scholarship by leading experts and new voices in history, anthropology, sociology, linguistics, and comparative literary and cultural studies.
Takes a truly multilingual and transnational approach, including research conducted in and on French, Portuguese, English, Saamaka, Aluku and Palikur languages, amongst others.
Crucially updates understandings of a place that is rapidly changing but remains much-misunderstood and largely ignored.
This collection of essays explores historical and conceptual locations of Guyane, as a relational space characterised by dynamics of interaction and conflict. Does Guyane have, or has it had, its own place in the world, or is it a borderland which can only make sense in relation to elsewhere?
EDITORS
Catriona MacLeod is Lecturer in French Studies at the University of London Institute in Paris (ULIP). Sarah Wood is Visiting Assistant Professor of French and Francophone Studies at the University of Connecticut.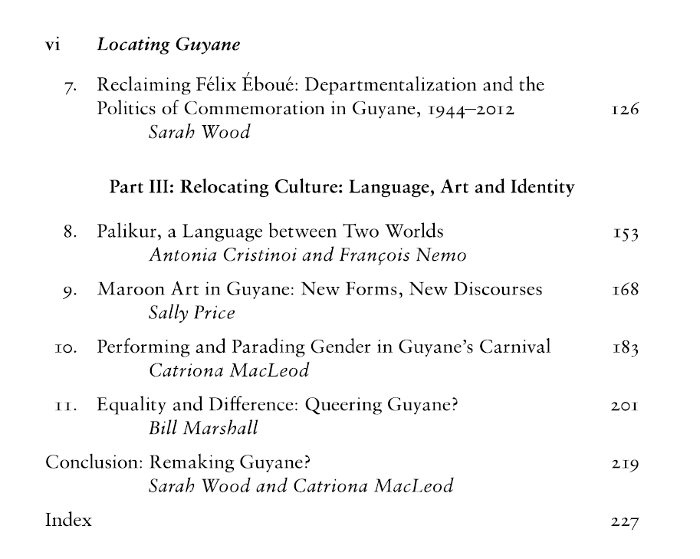 Where can I purchase this book?
UK and European Orders
www.liverpooluniversitypress.co.uk
www.amazon.com
UK Distributor:
Turpin Distribution, Pegasus Drive, Stratton Business Park, Biggleswade, Bedfordshire SG18 8TQ, UK.
Email: liverpool@turpin-distribution.com
Distributed in the USA by Oxford University Press
Global.com/oup/academic
Email orders.cary@oup.com