Potomitan
Site de promotion des cultures et des langues créoles
Annou voyé kreyòl douvan douvan
A Birthday Celebration with
The Original Haitian Kings of Comedy
By Maurice Moses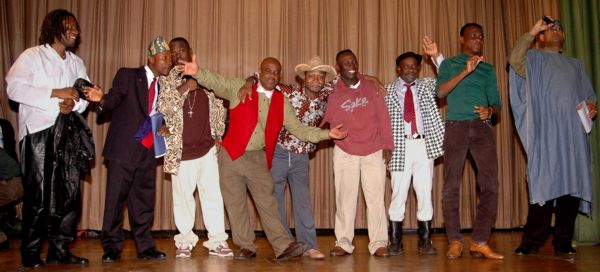 Ton Ton Bicha a New York, Live on stage, Grand finale.
The Birthday of Lamour E. Laguerre Best known as "Tom Male" was highly celebrated with his comrades in the form of a comedy show best-entitled "The Original Haitian Kings of Comedy." Some of the all-stars included Ton Ton Bicha and Papa Pye, Sifrael
The party started on Saturday night (October, 15 2005) upon the arrival of the artists from different parts of the world. The fete starts live on the radio on the program called "Radio Pa Nou."
The night was filled with excitement. Sifrael (Jesifra's son) was in attendance although his father couldn't make it. Papa Pye, "The Prince Komik" and "Ton Ton FeFe" all came to do their thing. Absalon came with his cast including his co-stars Grann Nanna, Dieuvey and others. This was a well-deserved Birthday celebration for Tom Male who is also a pioneer in Haitian comedy with a number of TV sitcoms, movies, CD's and commercials under his belt. This should be only the beginning of what would be called a celebration of our highest heroes in the business of Haitian comedy.
Staring at an early age, comedy came natural to Tom Male. Male has an impressive resume of his previous works such as; Kouche pa ba, Met ko veye Ko, 20 kob satiyet, five full years of tel le papa, and tel la pitit and a number of movies available on DVD. On the night of the celebration, Tom made sure not to miss out his producer of whom he said, "If he's here today, it is because of him." He was introduced as non other than the great Boston producer, Marc Sam Dalzon of M&S records and beauty supplies-- A Boston based recording company with a record of 20 years in the business. It was indeed a beautiful turnout as the Holy Cross Church Auditorium was transformed into The Holy Laugh Auditorium.
People came from all-over to show some love and support for their favorite comedians, and also to laugh their heads off! Some came directly from Haiti and others came from Miami Florida, Boston, Connecticut and States such as of New Jersey.
The New Jersey based, Jude DeRonceray better Known as "Non pam se roupy" (Roupy) is a Port-au-Prince born Comedian. H e was a student at St Louis de Gonzague Elementary School and graduated from College Bird class of 1985. Roupy was the Master of Ceremonies for the night did an excellent job hosting the event throughout the whole night. But this M.C. is no stranger to the business of hosting himself; Roupy was the Manager-Producer of Radio Soleil d' Haiti a weekly radio program on WNJR 1430 AM. In 1990, he joined Radio Tropicale d' Haiti 92 FM SCA where he spent five years as Coordinator and hosted the most popular Haitian radio show of the 90's: Tropicale-Matin. He also produced Radio and TV commercials for a large number of businesses in the USA, Canada and Haiti. In addition, he hosted major shows on Radio Verite, Tele-Citronelle and Haitian Satellite Television. Roupy also worked as a host/translator for a special on CBS's 60 minutes on Rwanda. In the year 1995, Roupy founded La Bande de Roupy, a cultural dancing group in New Jersey who has performed along with famous artists in and out of the state. A Comedian by nature, Roupy has performed many times at stand-up comedy shows in nightclubs, banquets, festivals, and private parties. He published a CD, an Audio Tape, a Book and Videotapes. His works are still available on the market.
We could never talk about Haitian comedy if we don't give credit where it's due. This legend in the business left many hearts broken when he left the live sitcoms, which used to air everyday on TNH Television station in Haiti. One can never forget "Lavi nan bouk la," which was the Haitian equivalent of the popular "Sanford & Son" series in the 70's and 80's. This man was the star attraction of movies such as "Fly People" and more than 25 other movies which are still available today. The Petion-Ville born Jean Claude Joseph better known as "Papa Pye" recalled growing up in Bas-Peu-Chose (and also resided in Carrefour- Ruelle Titus.) He will never forget about his Foster Father who was a Professor at Lycee Toussaint and Pere Adrien and who was also a former Classmate of Haiti's Ex President Paul E. Magloire.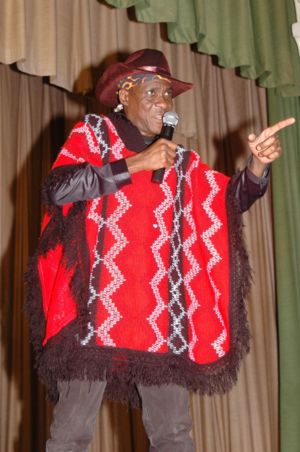 The Original Kings of Haitian comedy Papa Pye.
As Papa Pye stood up leaning on the bench talking to H-O by giving us his bio, one would say this man is a true pioneer and legend and demands no less a title than one of the Original Kings of Haitian Comedy. Beyond his interests in comedy, he is also a karate master and is known amongst the best of Haitian Karate masters such as Yvon Dupoux, Petit Louis, Florival and so on. Papa Pye officially became a U.S. resident in the early 2000's and his passion is to keep on going with acting career. He often reminisces about his three full-grown children. One resides in Chicago and goes by the name of Gordon Claude Joseph. Another named Edith Wideline Desma Joseph lives in Washington. The last one lives in Boston who is called Nathaniel Joseph. He says although they are leading separate lives and are far away from him he loves them very much.
The "La Vie Nan Bouk La" series of Papa Pye's left its trade mark and will never be forgotten. It was one of the funniest shows by Haitian comedians in the history of comedy. Along with his legendary cast such as; Frederik, Gracye and Bòs Macèl, he stole the laughs of everyone who used to watch the show in the early 80's.
Now a days we are watching a montage of Haitian comedians making their daily rounds as a messenger delivering manila envelopes and packages to various offices. Our next superstar is always courteous and polite in his demeanor, but is definitely not to be taken lightly in any way. This 21 st Century Haitian comedian is an attractive-looking young man just past 32 yrs old and is well dressed and well mannered. However, when it comes to his alter ego, he is nothing short of a human fireball. As a well-known crowd favorite, this character is very energetic. Dressed as a stylish countryman / farmer, wearing wide-collared polyester shirt and long pants using a rope as a belt, he captures his audience before he even speaks. His rubber shoes are mismatched but polished, his peasant hat is exaggerated with straws and not to mention his most distinctive feature…his heavily powdered beard and eyebrows.
As we finalize the description, we see that this Haitian household character could be non-other than Tonton Bicha. As he is walking rapidly towards the podium, he illuminates the crowd with his famous phrases "Mezanmi Eske Nou La!!!...Femtande Min Nou Pla, Pla, Pla, Pla, Pla, Pla, Pla!!!" Tonton Bicha is a natural when it comes to knowing how to make his audience laugh and when the crowd starts laughing at his super silly antics and pants-wetting jokes. There is no stopping him. A little later in the show, "The President of Compas", Sweet Mickey surprised the audience with his appearance. The two had everyone roaring with so much laughter, that at times it seemed more like a comedy show than a concert!
| | |
| --- | --- |
| | |
| Ton Ton Bicha a New York, stole the show. | Ton Ton Bicha seeing laugh till you drop. |
Tonton Bicha, whose real name is Daniel Fils-Aimé, saw the light of day on July 7, 1973 in Cap-Haitien. As a youngster, the theatre possessed his soul. The "Troupe Jeunes Patriotes Catholiques "(JPC) [Young Catholic Patriots Company] helped has a lot to do with Bicha's Career as a comedian, it help nourished his talent.
Singer, comedian, publicist and actor, Bicha is definitely making his mark in Haitian show business. For the friends of, this star actor (old man) of the latest Haitian cinema hit, represented Haiti 14 th annual festival Mondial in '97 de 21st Salon du Livre in Paris in March, 2001, "best artist of 2002 Caribbean," "best Haitian comedian 2003" by Haitian entertainment awards "best Haitian actor in2003" by ticket magazine for the hit Haitian movie, "I Love You Anne"
HO: Why did you choose to represent the character of a 71-year-old man?
Bicha: It has to be said that Tonton Bicha exhibits himself in a grand manner and brings joy to everyone, both in Haiti and overseas, the feedback is very positive.
For Ton Ton Bicha there are no similarities to talk about when it comes to being a comedian. Comedians do what they do best. He is the best of the 21 st century. He is a young man who is 32 years old, simple, and well mannered, Not to mention mad cool.
Tonton Bicha, the old man, is Anne's father, besides his first joke on stage at Tom Male's birthday celebration was on Anne and his Friend Don Cato brother's posse and every one knows that
This is one of the most appreciated comedians in Haiti. Keep on representing Haiti wherever you go as you've been doing and Kudos for Haiti Twoubadou's hit song, "Quatre Kampe."
Tom's birthday celebration would never have been completed without other comedians such as Sifrael the son of another great comedian Fernel Valcourt whom everyone called Jesifra.
The Plaine Du-Nord Haiti born young Comedian Sifrael killed the show with his talent, a very intelligent young actor who studied science informatics. He left in his second year to study cinematography in the heart of Port-Au-Prince, following in his fathers footsteps; he started playing at the age of six-- no need to say being a comedian is in his blood. Sifrael said the fist time he went on stage was at the famous Theatre National (L'air du bi-centennial) since than he co-stared with his father Jesifra in many live on stage shows such as Jesifra Tet kaderik ,kont neg D'afrik bossiko ak Makiyaj and co-wrote many shows with his father as well. Based on his interview with H-O up to 16 shows, indeed the young actor surprised many of us, and people call on his father to watch- out because there is a new sheriff in town, Congratulations to Sifrael.
Kings of the Haitian comedy partial view up-stairs.
Actor Comedian Ernst Domond (a/k/a Absalon) a Port-au-Prince, Haiti, born comedian, acquired a Bachelor Degree in Arts from Academy Des-Beau-Arts in Haiti, and from Borough Manhattan Community College in Business Management during his years in US. Besides being Vice-President and TV-Production Consultant for the Haitian Network Television™ ("HTN"), Mr. Domond was Director at T.C.K. for 10 years. He is a Script Writer, Theatre Teacher, and the creator/director of "Caribbean Creole", and stars as Absalon in the soap-comedy. In that soap-comedy, he revealed proven-in-action through comedy, drama and directorial strategies based on his over 30 years of experience in theatre. Domond and his group is no stranger to the comedy business industry. Let me take you guys a little further as to why Domond and his group Caribbean Creole was among the Bicha PaPa Pye Ton Fefe who plays Tom Male's father in the stunning piece Bare Vole Tom Male got beaten-up.
"Caribbean Creole" is a soap-comedy based on real life occurrences. It's a typical family and friends going through the motions of life. With a cast well chosen, each episode has a key lesson for everyone and keeps you laughing from beginning to end. If you appreciate soap-comedy with a twist of drama, you will love the Caribbean Creole show and its stars.
Smith Destin (a/k/a "Tidio" and "Gran'nana") was born in Port-au-Prince, Haiti. He attended Kings Borough Community College in New York. He is a dancer, a supermodel who is in theater/comedy. Smith is a strong member of Caribbean Creole. Without him Caribbean Creole could and would not live. He is an inspiration to many of his fans and the Caribbean Creole cast members all trust him and believe that he is one of the best actors of all time.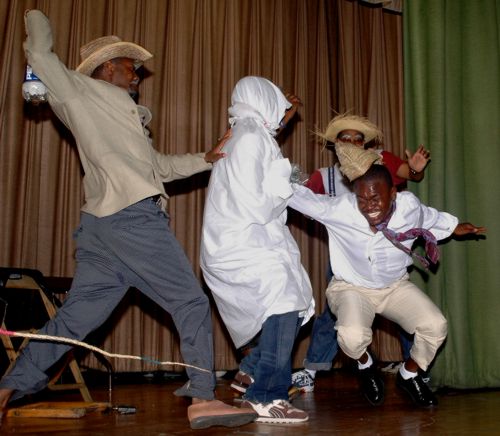 Kings of comedy shot of the year.
Chervin Domond who plays Patricia female impersonation) was born in Port-au-Prince, Haiti, as well and graduated High School of Culinary Arts, From John Harvard Brew House. He is now an Executive Sousches at a major Corporation. He is a big comedian from Caribbean Creole.
Frederick Domond (a/k/a "Dievey" and "Joksime") was born and in Port-au-Prince, Haiti. He graduated from the Borough of Manhattan Community College in Business Management. He is one of the managers of Harp Marketing Corporation. He is a high-class comedian. He is a script writer. He is also a member of Caribbean Creole; he is one of the big family.
Louise Etienne (a/k/a Macda) was born in Les Cayes, Haiti. She was raised in Brooklyn N.Y. She was graduated from Erasmus High School and she went to Medgar Evers College. She is a LPN who graduated from Boces she is also a Beautician and she is one of the stars of Caribbean Creole.
Yasmine Domond (a/k/a Tiboule) was born in Port-au-Prince, Haiti, She graduated from Erasmus High School and she went to Long Island University. She is a LPN who graduated from Boces Indeed the stars Caribbean blessed our Tom Male real good with their performances
Long live Mr. President:
The Florida based Prince (Prez Aristide) Komik who flew to New York especially for Tom Male's birthday closed the show with an eye-catching entrance as if he was President Aristide himself; it was with a presidential musical salute body guards left to right all the way. Jude Joseph the owner of radio Pa Nou and one of his sons played the bodyguards to escorted Prince (Prez Aristide) Komik as he made his entrance on stage. The Prince's parents wanted him to be a soccer player but he rejected the idea of playing soccer and chose instead to be a comedian according to Prince. It is an amazing story. He is a gifted Haitian comedian that makes him very special. His mother gave birth to him by accident at Haiti's general hospital several years ago but the comedian can't remember exactly when and this is not a joke. Prince believes he is the only person to be born in Port-au-Prince but who not from Port-au-Prince. Prince says he learned how to walk and talk in the town of Lagonaves Haiti but thanking God for the good gift, the gift of making people laugh, he started making people laugh before he even learned how to talk. His parents told him and prince does Believes that, He was born to stand-up comedy. That was what he brought us all the to Holy Cross Auditorium during the Impersonation Of the former Haitian President Jean Bertrand Aristide by closing the 6 th Haitian Kings of Comedy shows and Tom Male's birthday celebration. The Artists received a royal welcome by the producers, rice and beans crabs and shrimps in sauce were served as well as Haitian Rum Barbancourt.
From All of Us Tom, Happy birthday!
Extra Extra Extra
Be the first amongst those to find out about Ton Ton Bicha's next two movies
President Bicha, with Sweet Micky as Prime Minister and I Love You Anne part Deux.
Ton Ton Bicha a New York, behind the scenes group shot.