Potomitan
Site de promotion des cultures et des langues créoles
Annou voyé kreyòl douvan douvan
Rally 'Round the Flag Myth,
Mystery Surrounds History of Haiti's First Banner
June 2004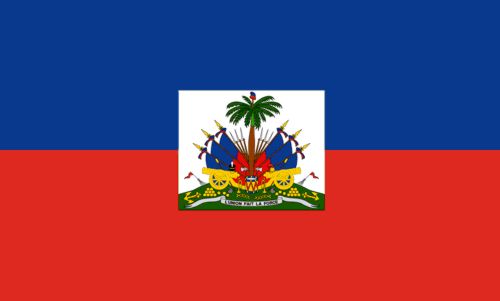 This article which was published on June 2004 by the Boston Haitian Reporter is still timely and relevant.
June 14 will go by like any other day in this country with few celebrations or editorials in newspapers. Not too many Americans are aware that this is the day to remember their country's flag. That's in sharp contrast to Haiti, where May 18 is the most widely celebrated patriotic day on the calendar.
Growing up in Haiti, May 18 was a student-centered festivity. As a child, I spent some of that holiday in my hometown Petit-Goâve. Other years, I would go with my Dad to Port-au-Prince. Students parading in the streets with myriad styles and colors of uniforms remain a memorable mosaic.
In Petit-Goâve, all the events took place in the nuns' courtyard. There were festivals, soccer games, tugs of war races -all with one's uniform on. In Port-au-Prince, the national palace was the final destination of all school parades. As a grade school child, I marvelled as I toured inside the national palace. The oversized red drapes and carpets, the large rooms and the mahogany furniture are unforgettable memories when the national palace was opened for students and parents to visit on Flag Days.
Last year, as the Haitian patriots were celebrating the Flag's bicentennial, lectures, homilies, and publications around that topic were a frequent occurrence. Realizing that I wasn't learning anything new, I started reading instead of attending more lectures or listening to additional sermons. I found puzzling information not only about the flag, but on the personal lives of the heroes who created Haitians' highly revered patriotic symbol.
Bon Nouvel, Haiti's largest publication and oldest Creole magazine presented a historical overview of Haiti's flag in its May 2003 issue. To my surprise, there wasn't a so- called "creation" of the flag on May 18. There was rather a presentation that occurred during the month of May in a congress held in Arcahaie. Like Thomas Madiou, Haiti's renowned historian, Bon Nouvel did not write May 18 as the date of the presentation of the flag. Here is a translation of what Thomas Madiou wrote in the concluding statement of his three paragraphs on the flag:
"No one will ignore that on May 1803- when Dessalines entered la Plaine du Cul-de-Sac- the indigenous troops already had the bicolor flag which had been adopted since February."
At the end of his 415-page book on Haiti's history (1799-1803), Madiou listed 630 names that can be chronologically found in his second volume. Catherine.
Flon's name was not one of those mentioned. Throughout the readings, I have come up with many unnamed women, but the action they caused had nothing to do with the flag.
For instance, there was an unknown black woman who was sent as a messenger by Déjoie to announce to a commander named Ferou the plot that Rochambeau had to massacre all influential blacks and mulattos. Among anonymous females, Madiou also wrote that women were among the valiant indigenous fighters who armed themselves with stones and other firearms. In school history books, Marie Jeanne de la Martinière is one of the few named vigorous female soldiers.
The following is a summarized account of Madiou's history of Haiti's flag.
Around February 1803, Pétion, whose headquarters was in Arcahaie, received a copy of a published article from one of his messengers whom he usually sent to Port-Républicain (today's Port-au-Prince). In this article the French recounted the 13th regiment was using a red, blue and white flag, a flag they found when the 13th lost a battle in Pierroux in December 1802. By using the tricolor, the French assumed that the insurgents wanted some freedom like the French, but not a total independence from France.
Having read this, Pétion sent this published piece to the general in chief, Dessalines, who was at Petite Rivière de L'Artibonite at that time (February 1803). As a result, to show a determination for complete liberty, Dessalines removed the white that represented the French and sent orders to the other generals to use the red and blue vertical flag which represented the union of mulattos and blacks.
Referring to other historians, Bon Nouvel wrote that when Dessalines became emperor in October 1804, he changed the flag to black and red, leaving it in the vertical position. After Dessalines's assassination, Pétion returned to the red and blue colors, but in a horizontal position. He added the white color, the palm trees and the ammunition in the center with the logo" L'Union fait la force" (United we are strong), which is what we have today.
In 1807, two flags were being used in Haiti, the black and red by Henry Christophe in the Northern part of the country and the blue and red by Pétion in the South.
In 1957 when François Duvalier became president, the red and black flag in the vertical position represented Haiti until May l8, 1986, the year Jean-Claude Duvalier left for exile.
The Haitian flag had known some embarrassment. Based on Fleurimond Kerns's web's article, on June 11, 1872, Germans defecated on Haiti's flag because two of their nationals wanted $ 15,000 from the government of Nissage Saget for they were broke and bankrupt. The other disgrace, known as the Luders affair occurred on December 6, 1897. Two German ships docked on Haiti's shore. The German government wanted Haiti to pay a $20,000 fine and demanded to free Luders who was arrested for assault and battery under the Tiresias Simon Sam's presidency. As part of the same incident, the German's flag was raised at Haiti's National Palace.
The last humiliation was from 1919 until 1934, the American occupation, in which the Haitian flag was not hoisted.
However, there were other moments of pride. The Admiral Hamilton Killick created a sense of pride when he wrapped himself with the flag as he set La Crête-à-Pierrot in flames in lieu of letting it be seized by the German warship The Panther on September 6, 1902. Haitians have never been so honored of their flag when several years ago, Wyclef Jean wrapped himself around Haiti's flag to receive the musical Grammy award.
The stories about Catherine Flon, the Betsy Ross of Haiti, are largely speculative. In Arcahaie, Catherine was said to have sewn two pieces of red and blue cloth in the May 18 Congress with a strand of her hair. The other version relates Dessalines's daughter having been severely beaten by a French master. Dessalines took a piece from her blue skirt and his red scarf and had Catherine Flon sew it as a symbol that never again no one will be beaten by the French.
Mèfi Jiwolyen in the Bon Nouvel May 2003 issue related that a congress held on May 18, 1803 in Merotte, a plantation near Arcahaie, home to one of Dessalines's mistress, Grann (Granma) Gitonn. Since there was no dressmaker in Merotte, Dessalines sent the pieces of red and blue fabric to Catherine Flon who lived in Portaille (block) Courjole to sew. Another version in an article by Fleurimond Kerns states simply that Catherine Flon sewed the flag on the last day of the Arcahaie's Congress held from May 14 to May 18, 1803. Andre Sylvestre in his Haitian Creole book on Haiti's historical women also had Catherine Flon sewing the flag at the Congress on May 18.
Incongruous versions of the sewing the Flag by Catherine Flon create some skepticism. Sewing a flag with a strand of hair is plain romanticized folktale. Literally or historically speaking, what was the size of the fabric? How long was Catherine Flon's hair to pull such a long strand that would go though a needle?
If there is other doubt, Catherine's last name "Flon" will reinforce the skepticism. The surname "Flon" is hardly known in Haiti. Her name is not featured among the 630 names listed in Madiou's volume.
Though Catherine Flon seems to be one of Haiti's most famous historical women, her name is not recognized by respected historians like Beaubrun Ardouin or Thomas Madiou, or contemporary ones like Ghislaine Charlier whom I have spoken with to gain more insight for this article.
According to Ms. Charlier, Claire Heureuse, Dessalines's wife should be one of the most celebrated Haitian historical women. She was, before any European or American Florence Nightingale, the first military nurse. She took the leadership in caring and gathering other women around her to care for injured soldiers during the revolutionary war. She patiently and graciously raised Dessalines' illegimate's children. The poignant ending is Claire Heureuse died in destitute poverty at 100 years of age in August 1858.
Despite the historical speculation about Catherine Flon sewing the Haitian flag on May 18 in Arcahaie, Haitians need to urgently reflect on the despicable challenges that our ancestors faced for our freedom. Have they fought in vain? In Haiti, in Boston, in the diaspora, we are a divisive group of people. Haitians really need to put into practice the flag's motto "L'union fait La Force."
For two hundred years, our egos and mindsets have prevented us from putting our emblem "United we are strong" into practice. It's not too late to show the next generation, Haiti can be a united nation and Haitians abroad, a cohesive diasporic community.
Nekita Lamour, an educator, essayist, and a Theology student at the Weston Jesuit School of Theology is a regular contributor to Boston Haitian Reporter.