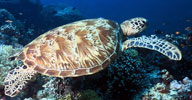 Potomitan
Site de promotion des cultures et des langues créoles
Annou voyé kreyòl douvan douvan
François Fortuné (Azor)

Écrit par Paul Sanon
Édité par Leslie Petigny
Il y a quelques années, lors des vacances à Saut-d'Eau, à l'occasion de la Notre Dame du Mont-Carmel, j'ai eu le privilège de rencontrer Azor, maestro et chanteur du groupe Racine Mapou. Homme chaleureux, convivial et désarmant, son sourire aussi grand que l'Eglise du Mont-Carmel a tout de suite dissipé en moi toute résistance de l'approcher. J'ai eu donc le vif plaisir d'échanger avec lui des propos qui m'ont renseigné un peu plus sur son parcours social et professionnel.
Né d'une famille pratiquant le culte vaudou, François Fortuné a dès son jeune âge connu les réalités du lakou régi par la loi des houforts et l'allégeance aux esprits. Lesquels sont présentés par la prêtrise vaudouesque comme des dieux invisibles tutélaires de la nation.
Déjà à douze ans, Azor a émerveillé tous ceux qui avaient l'opportunité de le voir chanter et jouer au tambour, cet instrument sacré du vaudou. Après s'être mis en évidence avec les troupes folkloriques Bacoulou, Racine Vèvè, et Zobop, le virtuose Azor s'est associé à Wawa pour former le Super Kanga Racine. Leur premier succès a été Erzulie Je Roujau cours duquel Azor a confirmé son talent émérite de tambourinaire hors pair. Il se séparera plus tard de Wawa et de Kanga Racine pour former l'actuel Racine Mapou avec son frère surnommé Tinonm.
À Saut-d'Eau, le lieu de naissance de mon père, j'ai assisté à un inoubliable spectacle d'Azor donné à Dumas Night-club. Comme un flux continu de musique et de contes, il exécutait avec brio et maestria des titres tels que Danjere, Viej Mirak Sodo. A l'instar du grand orateur grec Cicéron, la voix d'Azor semblait provenir du haut de Morne La Selle, faisant écho à travers toutes les plaines avoisinantes pour revenir transformer la salle en un véritable temple sacré. Comme une flûte lancinante jouée en une pleine lune printanière, cette voix à l'intonation pénétrante touchait les fibres les plus sensibles. Je saisissais à ce moment la justesse de la fascination de certains amis, témoins de la prise de possession de certains vodouisants provoquée par la musique de Racine Mapou au passage du cortège carnavalesque à Port-au-prince. Des chercheurs gagneraient à approprier des thématiques de cette dynamique mystique dans le cadre de l'Anthropologie culturelle.
Aujourd'hui, Azor se profile en un véritable ambassadeur de la culture haïtienne, faisant chanter et danser des millions de personnes de par le monde, les transportant parfois au bord du délire. Utilisant une trame tantôt thématique, tantôt narrative, il passe en revue la gamme des émotions humaines. Qu'il s'agisse de ceux qui célèbrent la belle joie fécondant au creux de l'âme, ou de ceux qui nourrissent des sentiments de servitude tyranniques, tout le monde se retrouve dans les chansons de Azor. En parfaite complicité avec sa chorale, il entraîne auditeurs et spectateurs dans des moments intenses de communion et de méditation.
En 2006, en compagnie de l'économiste Michelle D. Pierre-Louis et l'écrivain Frank Etienne, Azor a été honoré en tant que légende nationale vivante par la Fondation Françoise Canez Auguste et Image Marketing. Cette distinction venait à point nommé saluer le riche répertoire d'un musicien aux habiletés particulières.Il ne me reste alors qu'à souhaiter à Azor de belles satisfactions dans l'exercice de son art.Azor est mort le 16 Juillet, 2011
Paul Sanon
François Fortuné (Azor)
A couple years ago, while vacationing in Saut-D'Eau around July 16, we had the privilege of meeting Azor and other members of his band, Racine Mapou. Azor's demeanor was effortlessly warm and disarmingly friendly. He easily wore down resistance and suspicion with a smile as big as Mont-Carmel Church. Azor was born in a voodoo family in which voodoo temple, beliefs of ancestral gods, and voodoo spirits were the norms. At an early age, Azor fell in love with drum; an exclusive instrument that forms a perfect symbiosis with the voodoo religion . The Drum, cultural identifier, is considered as a sacred instrument to all voodoo adepts and is essential to the communion between the spirits and believers.

By 12, he was already a great Racine singer and a drum virtuoso. After showcasing his talent in Bacoulou Folkloric Troupe, Racine vêvê and Zobop, the virtuoso Azor finally Joined hand with Wawa to form the super Racine Kanga . Erzulie je rouj » was their first success. Later, since they could not bridge their difference, Azor left Racine Kanga. And with his brother Tinonm, Azor founded Racine Mapou.
In Saut-D'Eau, my late father's birth place, we attended a few of Azor's performances at Dumas Nightclub. Come to think of it, they were simply a seamless flow of music and storytelling. He set the tone with songs like Dangere and by the time he hit Vieje Mirak Sodo, the place was transformed into a sacred heaven. Like the great Greek orators like Cicero, Azor seems to have a vocal purity that seems to be emanated from a mountaintop, echoes through all the plains and trickle down to our ears in its purest form.
His voice and the sound of the drums have the power to unleash the loas in voodoo followers. Marvin Eveillard, my 15 years old nephew said "it was the first time i saw somebody possessed while I was on the stands watching carnival. As Azor float was passing by, I was fascinated by the effects of the drums on certain revelers as they were falling prey to some unknown force". Azor gives us a window into the mysticism in our culture...A great topic for a study in cultural anthropology.

As he was singing with a perfect intonation, Azor projected the ethereality of a flute played in a moonlit spring night. Effortlessly, he reminisced at length about life in its totality. And "Vwazin di se vakabon pou m al pouse bouret mwen men mwen di se libete mwen men ou pap vole » is a perfect example of the marriage between the mystical and the mundane. Maybe there is no line of demarcation between the Mundane and the mystical. Perhaps, they are simply interchangeable elements of the same melting pot. However, we know for sure that they both are human in nature.
As an ambassador of Haitian Culture, Azor has performed throughout the world and his soulful voice has entertained millions. When he sings with full concentration, he seems to brace himself for impact. After making a fist with one of his hands, he does neither sway nor shift. As he is measuring the weight and potency of a drawn-out vowel, he stands still. From this coiled position, sometimes he sings about his lamentation, and desolation. Other times, his songs seem to capture joy, beatitude and hope. His drums playing and his singing seem to create a perfect harmony between muted reflection and full-blown crisis. As the electricity circulates, everyone seems to be transported to a rapturous plane where nothing else matters, except Azor's voice and the drums.
Azor 's lyrical lines, technical precision and luminous stage presence made him a super star and a darling to the voodoo world. By trading quips with his back up singers and the audience, Azor can take anyone to a higher stratosphere. He plays his drum with an acute expressiveness and a real sense of human breath as his voice grew ripe with emotional suspense.
He can hit difficult notes with an affecting beauty and a heartwarming suppleness. As a composer, his songs can evoke melancholia and playfulness as well as tenderness and impetuosity. Sometimes, he spat out some of the words with angry precision before quietly surrendered to the inevitable. Some of his songs convey a range of emotion that provides their own way of inspiring confidence in everyone. It is impossible for someone with a pulse to resist to his texturally clear and fascinating stories. Often, he sings with expressive pathos in order to draw the faithful into his energizing moments of wisdom and communion.
Every word of his songs seems to be consciously delivered to raise an emotion. And among Azor's hits we can mention: Vieje Mirak Sodo, Dangere, Ji Le Liye, Kay La Pap Kraze, Le yo malad, Dan Petro Pap Fe yo Byen, Manze Marie-Louise, Na Konble, Pwomen nen Nap pwomennen, Trankil, Nasire, Kite yo Pale, Gran Bwa, Samba Samba Poko Samba, Pa Fe Ronga pou Gason, Resiye O. And again as a whole, the songs are simply about a sense of peace, remedy for ills, protection from evils, and security for the beloved ones, spiritual rewards, blessings for the whole community, and hope for a brighter future. With Azor self-delusion and self-awareness become part of the same continuum.
In 2006, with the economist Michelle D. Pierre Louis, the writer FranK Etienne , Azor was honored as a Living National Treasure by "La Fondation Françoise Canez Auguste et Image Marketing. Azor died on July,16, 2011. Rest in Peace.
Paul Sanon
Sur Potomitan