Potomitan
Site de promotion des cultures et des langues créoles
Annou voyé kreyòl douvan douvan
Translinguisme, traduction et poésie caribéenne
La langue maternelle a traversé l'océan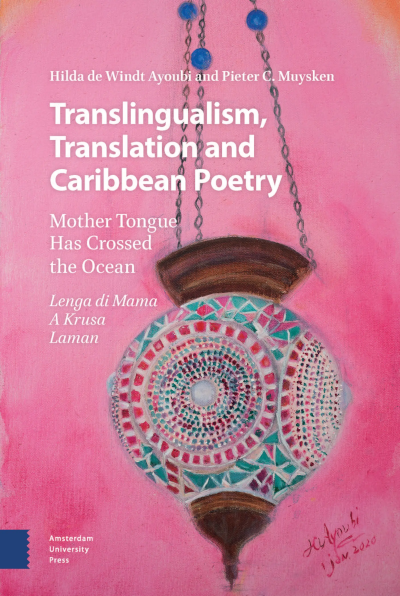 Translingualism, Translation and Caribbean Poetry, Hilda de Windt Ayoubi & Pieter C. Muysken • 2022
ISBN 9789463727440 • Amsterdam University Press • 316 pages • 15.6 x 23.4 cm • € 106,00.
Les linguistes estiment qu'il existe environ 7 000 langues dans le monde, mais beaucoup sont menacées. Translinguisme, traduction et poésie caribéenne est un recueil de poésie multilingue comprenant plus de cinquante traductions de «Lenga di mama» («langue maternelle») de la poétesse de Curaçao Hilda de Windt Ayoubi, ainsi que trois poèmes supplémentaires offrant chacun une perspective différente sur la langue maternelle. La poésie pointue et socialement chargée de De Windt Ayoubi a inspiré des traductions du monde entier; recueillies ici pour la première fois, elles servent à protéger les langues et les cultures d'origine – en particulier les langues minoritaires – de leurs traducteurs, qui vont des linguistes experts aux locuteurs de langues sous-représentées. Dans son essai d'accompagnement, Pieter Muysken examine le rôle de la traduction dans la résolution de ce problème culturel urgent, discutant de la perte et de la revitalisation de la langue, des traductions bilingues et des traductions de masse. Complète avec des cartes, des profils linguistiques et des entretiens personnels avec le poète, cette collection explore l'importance émotionnelle, culturelle et intellectuelle de la conservation de la langue à travers la poésie.
* * *
Translingualism, Translation and Caribbean Poetry
Mother Tongue Has Crossed the Ocean
Linguists estimate that there are around 7,000 languages in the world, but many are under threat. Translingualism, Translation and Caribbean Poetry is a multi-language poetry collection comprising over fifty translations of Curaçao poet Hilda de Windt Ayoubi's 'Lenga di mama' ('Mother Tongue'), alongside three additional poems each providing a different perspective on the mother tongue. De Windt Ayoubi's sharp and socially charged poetry has inspired translations from across the world; collected here for the first time, they serve to protect the native languages and cultures – particularly the minority languages – of their translators, who range from expert linguists to speakers of underrepresented languages. In his accompanying essay, Pieter Muysken considers the role of translation in addressing this urgent cultural concern, discussing language loss and revitalization, bilingual translations and mass translations. Complete with maps, language profiles, and the poet's personal interviews, this collection explores the emotional, cultural and intellectual importance of language conservation through poetry.
Hilda de Windt Ayoubi was born and raised in Curaçao. She was a secondary school teacher and a lecturer at the University in Curacao. Her works include Gedicht (2018) and Geef me je Taal (2019); for her Papiamento translation of Kahlil Gibran's The Prophet (2014), she was awarded the Kahlil Gibran Chair at the University of Maryland. In 2019 she received UNESCO's Certificate of Merit for her work on Papiamento.
Pieter C. Muysken was born in Bolivia, but grew up in the Netherlands. He was Professor Linguistics at the Universities of Amsterdam, Leiden, and finally Nijmegen, and winner of the Bernhard Prize, Prix des Ambassadeurs, and the Spinoza Prize. His life-long research on Ecuadorian Quechua culminated in El kichwa ecuatoriano: Orígenes, riqueza, contactos (2019).
* * *
J'ai eu l'honneur de faire partie des 50 traducteurs. J'ai proposé ma contribution en créole, pour Lenga di mama de la poétesse Hilda de Windt Ayoubi de Curaçao. - Jid.
Matnik or Matinik (Martinican Creole) / Lenga Krioyo di Martinique
Lang natif-natal
Ni pasé 6000 lang ka egzisté asou latè
Eti majorité-a sé ta an ti-tjò
Mé sé wou, Papiamento
Eti man ka santi
Pli pré tjè mwen.
Sé épi'w
Man pé pli bien palé pou di
Tout détay ka rézonnen pli bien
Kontel mizik
Chanté épi mélodi éti pétet
Yo pa ka trouvé adan dot lang.
Ni pasé 6000 lang ka egzisté asou latè
Mé sé épi lang natif-natal mwen
Eti manman-mwen ek papa-mwen nouri mwen dépi toupiti
Man simié anpami tout
Man ka pòté jik an fondok tjè mwen.
Ni pasé 6000 lang ka egzisté asou latè
Mé sé yenki an papiamento
Nou ka matjé litérati nou
Nou ka mofwazé chédev entènasional
Pou nou rivé pòté lang natif-natal nou osélélé
Pou'y trapé plis valè
Menm manniè kiltivatè
Pa ka planté tibren mayi selman
Mé papay, patat, kosol ek kalbas
Pou rékolté dèmen dives fwi
Menm manniè nou ni bizwen choyé ek protéjé
Chak lang ki ni asou late
Menmsi i ka sòti
Dan pli piti tizing lang.
Translation: Jude Duranty

*